This post may contain affiliate links. Read my disclosure policy here.
It's a classic from our childhoods, and now it's coming to the big screen. I'm talking about Dr. Seuss' The Lorax, of course! The movie opens Friday, March 2, which just so happens to be Theodor "Dr. Seuss" Geisel's birthday.
I imagine you've seen the gorgeous Truffula tree-filled scenes in the movie trailers which have been predominant in the media lately, and I'm excited to say that I've seen the movie already, and I'm a big fan. I recently shared my thoughts on the page-to-screen translation over on 5 Minutes for Books, with many reassurances to kidlit purists who may be a wee bit nervous about a theatrical version of a favorite book.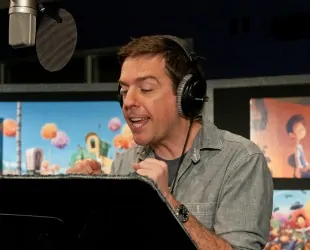 It was an incredible opportunity to not only preview the film, but to also take part in a series of roundtable interviews with some of the incredibly talented actors whose voices give life to these animated characters. Yes, there was the definite "starstruck" feeling for me, but once I could get past that, it was also quite interesting to hear about the work that goes into making an animated flick. And there's just no denying that some comedic actors never stop being funny, even off-set.
Integral to the original picture book is the character of the Once-ler, the man who only partially appears in the illustrations as a pair of eyes and two green-gloved hands peeking out of a boarded up window as he tells the story of how his greed transformed the beautiful landscape into a polluted, dreary place. On-screen, this character is fleshed out a bit more, both in his back story and his physical appearance, and voicing him is an actor familiar to sitcom and movie lovers alike, Ed Helms.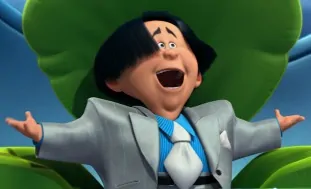 A new character introduced in the film is that of Mr. O'Hare, a businessman who never lets an opportunity to make more money pass him by. Animated as a short man with an interesting hairstyle, O'Hare is the complete physical opposite of the actor providing his voice, Rob Riggle. Our group of parenting bloggers met with Helms and Riggle together, and their comedic chemistry was apparent from the moment they began chatting with us.
A comedy duo with a long history
From their time as correspondents on The Daily with Jon Stewart, to their work together on the uncomfortably hilarious The Hangover, Helms and Riggle have both established themselves as funny, funny guys, especially in the grown-up humor genre. It's apparent in The Lorax that their comedy styles can morph appropriately for a kid-friendly movie, too. Though their characters don't actually interact in the film, Ed Helms and Rob Riggle clearly play well off each other. When asked if the environmental message of the film changed any of their own personal behaviors, they got some laughs out of us with this quick-witted exchange:
Mr. Ed Helms: I don't print out every email now, which I did for a long time.
Mr. Rob Riggle: You had a real bad habit of doing that.
Mr. Ed Helms: I had my assistant print out every email in triplicate.
Mr. Rob Riggle: Every single one.
Rob Riggle continued in a more serious vein about the film's message of the importance, all politics aside, to simply take care of the environment and "be a good steward." That seriousness didn't last very long when Ed Helms chimed in on the topic of greediness.
Mr. Ed Helms: Don't be so greedy.
Mr. Rob Riggle: Yes.
Mr. Ed Helms: I'm less greedy now, for sure.
Mr. Rob Riggle: Can you put a percentage on that?
Mr. Ed Helms: Yes, I'm at least 7 or 8 percent.
Mr. Rob Riggle: At least seven. Oh, that's good.
The Once-ler comes to life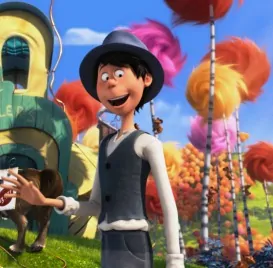 I particularly liked how the film built upon the character of the Once-ler, the narrator of the book, whose actions and realizations set the stage for the events in the story. I say that Ed Helms absolutely nailed the old Once-ler's voice in the beginning of the film, a voice that I've always enjoyed doing when reading the book aloud to my preschool classes. As Dr. Seuss wrote,"he sounds as if he had smallish bees up his nose," and "he says, with his teeth sounding gray." When the movie goes back in time to tell how the Once-ler came to the beautiful land of the Truffula trees, Helms had to change to a more youthful, optimistic portrayal of his character, and the voice changed again, sounding more like his own. He says of his character:
There are kind of three stages of the Once-ler, at least in my head. It's like the naïve wide-eyed guy who's really pretty innocent, and then the kind of industrialist who's gone down the rabbit hole of greed, and then the old cantankerous misanthrope version. I think that the younger Once-ler was a little closer to kind of who I am, and it was just sort of finding the heart behind it or finding where the Once-ler's head was.
Kid and adult appeal
I believe the general consensus among the parenting bloggers by the end of the whole movie-watching and celebrity-interviewing experience was extremely positive. I know I'll be taking my own kids (ages 4, 5, and 11) to see the film when it opens next week, and we even have one of our children's friends tagging along so far, too. The spirit of the classic book is truly alive in this film, and with an impressive cast, adorable animation, and catchy musical numbers to boot, there's fun for everyone in the family.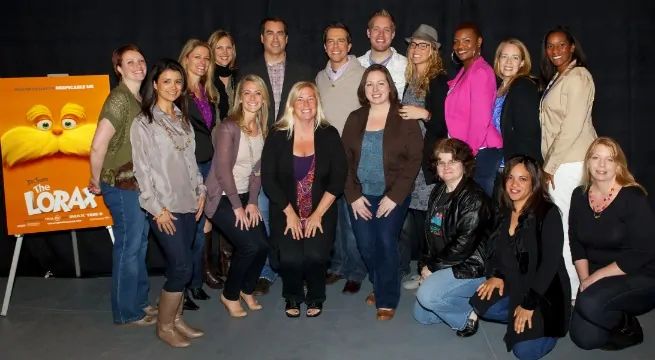 photo courtesy of Melinda Kim
The Lorax opens Friday, March 2. Read my review of The Lorax movie at 5 Minutes for Books. For even more fun, read about Danny DeVito's take on the environmental message, and about how Betty White made me cry. (Don't worry, it was because of her sheer awesomeness, nothing else.)
Disclosure: Universal Studios paid my expenses to attend the press junket for The Lorax, but any opinions about the experience or the movie are completely my own.