This post may contain affiliate links. Read my disclosure policy here.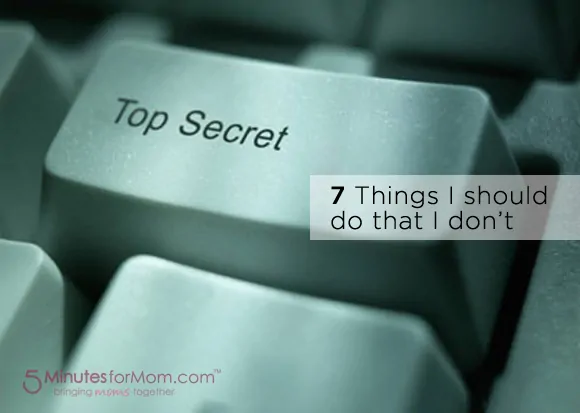 Okay ladies — confession time:

Do you have a list of things that you know you SHOULD do, but you don't?
You may try to do those things on your list. You may even do them sometimes. But, the truth is, most of the time, you just don't.
I resist organization. (Well, more than just resist.)
And I have a list of really important things that I should be consistently doing, but I am not.

Blogger CONFESSION: 7 Things I Should Do that I Don't!
1. Keep records of all my passwords
There are different methods of keeping track of passwords. My twin sister and co-blogger uses RoboForm — a password and form management utility for Windows, in our office for our e-commerce stores.
If you are Mac, you can use the very popular password management system 1Password. 1Password is now available for Mac, Windows, iPhone, iPad, and Android.
I had RoboForm on one of my previous laptops, but I haven't installed it again.
So, instead of having a safe password management system keeping me organized, I am constantly hitting the "forgot my password" link.
2. Keep my inbox folders and labels updated and emails sorted
After April Perry wrote about how to manage email like an expert, Susan got very organized with her personal Gmail accounts, as well as the 5 Minutes for Mom email accounts.
I started to tackle my personal Gmail account according to April's suggestions, but I have far from mastered it. I do use more folders and filters now, but my inbox is still a dangerous place.

CONTINUE READING at BABBLE'S MOMCRUNCH…
If you found this post helpful, we would love it if you gave it a Stumble, Tweet, Pin, or Facebook Like. Thanks so much! We really appreciate your support of 5 Minutes for Mom.
Written by Janice Croze, co-founder of 5 Minutes for Mom.
We want to get to know you better — Tweet with us: @5minutesformom, find us on Facebook: Facebook.com/5minutesformom, or join our newsletter list.