This post may contain affiliate links. Read my disclosure policy here.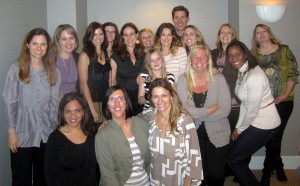 My husband was pretty excited that I got to meet Drew Barrymore on the Big Miracle movie press junket. He's always liked her: "Tell her that I'm impressed. Tell her you've met lots of people, but I think that she's the best one."
Yes, I realize that exchange sounds a bit like a conversation with an 8-year-old, but that's about how it went. And he's right, I have met lots of people — Jim Carrey, Steve Carrell, Julie Andrews, Emma Thompson — but apparently Drew Barrymore was the big "get."
He said this to me every time I talked to him, so I felt as if I should actually tell her this thing. So after our group photo, I did. She smiled warmly and took my one hand in both of hers and said in a very sweetly slightly spacey Drew way "Aw, thanks. Thanks so much," or something along those lines.
It was the same way that she reacted when our spotlight-stealing kid blogger Riley said "In the movie, it looked like you weren't wearing any makeup. You pulled out the lipstick, and it was the one time that you were wearing makeup. So, did they put makeup on you in the movie? Because if they didn't, then you looked beautiful."
Mr. John Krasinski: Good night, everybody. That's how you end an interview.
Ms. Drew Barrymore: I know. Oh, gosh. Thank you. I did wear a little tiny, tiny bit. I think that if you're happy on the inside with a little concealer is amazing.
It was a good question. I had been thinking along those lines too. She's always been a bit of a free-spirit, unconventional type — at least her public persona. But in the last few years, she's also become a Cover Girl glamour girl. She's slim and sleek and honestly looks better today in her late 30's than she ever has. And if that's not inspiring to a bedraggled-feeling mom in her 40's, I don't know what is!
Her role in Big Miracle is based on real-life Greenpeace activist Cindy Lowry and puts her back in that type of role that we equate with Drew Barrymore — caring, passionate, tough and vulnerable all at once.
I actually asked her about that — about which way she felt more comfortable, and here's what she said:
I like to play dress up, you know? Sometimes, I want to wear all pink and put on a lot of makeup and then, sometimes, it's sweat pants. I don't think there's anything more that I value than my sweatpants. I just like being at home and being cozy.
As I mentioned in my post where I went behind the scenes in our parent blogger roundtable sessions, she did seem quieter and more withdrawn than I might have thought, but John Krasinski's enthusiasm more than compensated for her energy (and don't get me wrong — she was interesting and gracious — but she's been doing this a long time, and I can imagine that living out your life in front of the press can make one a bit subdued in interviews).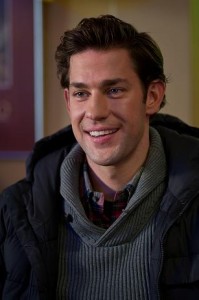 In the movie Big Miracle, Krasinski looks squeaky-clean and bring him right home to momma adorable, even in the frigid Alaskan air. And in our interviews that day, he looked exactly the same way. In fact, he seemed even larger than life. He sort of oozed adorable-ness, and good-humor and fun.
AND he gave us a "Jim look" straight from The Office. Ken Kwapis, the director of Big Miracle, actually directed the first Office episode (and a few others) so it came up, and he delivered without anyone even having to ask.
The movie is based on a book originally titled "Freeing the Whales." If you like interesting non-fiction, check out my review of the Big Miracle book in our Books on Screen column at 5 Minutes for Books today.
Truly a movie for the whole family
Big Miracle opens February 3.
I can't wait to share it with my family, because I know that they'll all love it, which is rare to be confident that my 13-year-old daughter and 7-year-old son, not to mention my husband, will all enjoy the same movie!
**Universal Studios took care of my travel expenses for this lovely trip to Santa Monica, California for the Big Miracle press junket, in exchange for coverage of the movie, however, I was not told what to say. My opinions are completely my own.