This post may contain affiliate links. Read my disclosure policy here.

What kid wouldn't want to kick up their speed with the Pulse Kick N' Go Nitrous Scooter?
This super cool, kid adjusted propulsion technology means the more they kick it, the faster they go!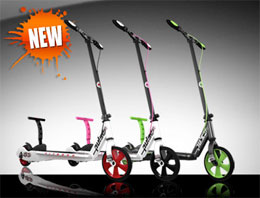 The smaller, lighter Nitrous, designed for kids 5+, is the little brother to the popular Pulse Kick N' Go Xcelerator which is aimed at kids 10-13.
Six year old Jackson had been begging me for an electric scooter. But there was no way I wanted to put him on a motorized vehicle of any shape or size!
But when he got a chance to test out the Nitrous, he was thrilled with it. "This is the coolest scooter ever!"

I was a bit worried that it would go too fast, but it is just perfect. He is in control of his speed, much like with a bicycle.
Yes – the Pulse Kick N Go is a totally cool scooter that will get any kid screaming with excitement Christmas morning.
The Pulse Kick N Go site also has some great videos so you can see the Kick N Go in action. Definitely check the videos out if you are considering a scooter for your kids this Christmas.

If you want to wrap up a Pulse Kick N Go Nitrous this Christmas, we have one to giveaway!

Also, thank you to Pulse Performance Products for your generous donation of a Nitrous Scooter to our Under the Tree Program.
Here's how to win:
See our Christmas Giveaway 2008 post to read more about
participating in our Christmas Giveaway

Either link back to this post and include a Christmas Giveaway 2008 button in that post or on your sidebar, or link to the individual giveaways you choose to enter. We have a ton of different buttons and styles for you to choose from. Click here to get the button codes. (If you post and include the button, either in your post or on your sidebar, and link back here, you are good for all the giveaways. No more linking required.)
Please leave one comment below to enter this giveaway. You may earn additional entries for the following:
1. Subscribe to our Feed
2. Sign up for our Newsletter
If you are already subscribed and are on our newsletter list, you qualify for these two additional entries. Go ahead and leave your additional comments below.
As always, non bloggers are welcome to participate! We understand you can't link – but please spread the word to your friends via facebook, twitter, etc.
Entries are open from Sunday, November 23rd through Friday, November 28th at 12pm EST.
Our winner will be drawn randomly and we will announce the winner Monday, December 1st. Please make sure to check our site and your email address to see if you have won a prize. We must receive your reply within 5 business days. (If you want your prize to arrive in time — the sooner we hear from you, the better!)
This contest is open to US shipping addresses. Due to legal restrictions, this promotion is not available in Arizona or Quebec.

Please see our site's Terms and Conditions of Use for a complete list of our Contest and Giveaway Rules.