This post may contain affiliate links. Read my disclosure policy here.

Did you know that skating is one of the top outdoor recreational activities in the world?
It's pretty easy to encourage, because it's something our kids can do by themselves or with a friend, it doesn't require much special gear, and it's relatively inexpensive since they can do it on any smooth surface — BUT. . . .
But you know how it is. Your kid comes to you and wants to skate. That means you have to drop everything to make sure they have on the right socks that will prevent blisters. And what about the shoes? Do they take them off inside and then go outside or into the garage wearing only their socks? Or do they discard their shoes somewhere as they struggle to strap and lace up their skates, leaving them who knows where when they are finished with their activity?
And even though there isn't much gear needed to skate — just the skates along with pads and a helmet, what about growth spurts? If you have a kid who grows as fast as Jackson does, you know that those skates will only last one season before his feet have grown a size or TWO.


That's why I was excited to try out Skorpies.
You see, Skorpies are like those toddler skates that strap onto your kid's regular shoes. But they aren't those cheap plastic things designed for two-year-olds who can still barely run, much less skate. These babies have shock absorbers! They are built for fluid speed, but with four wheels and a lower center of gravity, they are also built for safety and to allow your child to grow in confidence.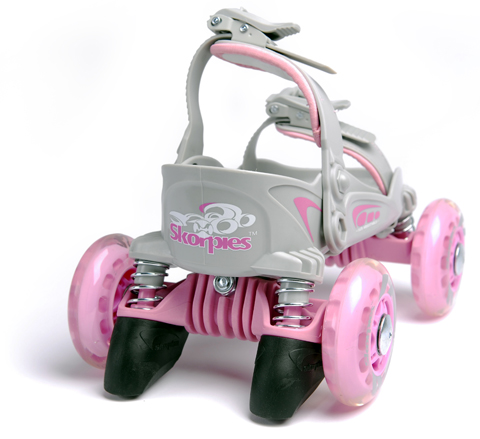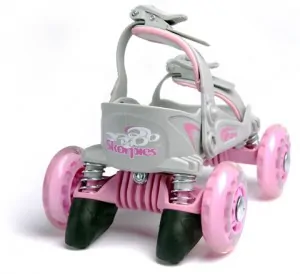 And they are adjustable so that you can share them with friends or other family members, and they will grow with your child. They are designed for kids from age three and up and will adjust from size 13 to 3 1/2 with a maximum weight of 100 pounds.
I think that $69.95 is a great price for an outdoor toy that will last your child for many years. If your child is a bit older (or if YOU like the idea of strapping on some skates like this), check out the Quadline skates that are available in two sizes to fit tweens, teens, or adults!

We have one pair of Skorpies to give away to one winner (and they've generously donated a pair for one of our Under the Tree recipients). Here's how you can win:
See our Christmas Giveaway 2008 post to read more about
participating in our Christmas Giveaway

Either link back to this post and include a Christmas Giveaway 2008 button in that post or on your sidebar, or link to the individual giveaways you choose to enter. We have a ton of different buttons and styles for you to choose from. Click here to get the button codes. (If you post and include the button, either in your post or on your sidebar, and link back here, you are good for all the giveaways. No more linking required.)
Please leave one comment below to enter this giveaway. You may earn additional entries for the following:
1. Subscribe to our Feed
2. Sign up for our Newsletter
If you are already subscribed and are on our newsletter list, you qualify for these two additional entries. Go ahead and leave your additional comments below.
As always, non bloggers are welcome to participate! We understand you can't link – but please spread the word to your friends via facebook, twitter, etc.
Entries are open from Friday, November 21st through Friday, November 28th at 12pm EST.
Our winner will be drawn randomly and we will announce the winner Monday, December 1st. Please make sure to check our site and your email address to see if you have won a prize. We must receive your reply within 5 business days. (If you want your prize to arrive in time — the sooner we hear from you, the better!)
This contest is open to US shipping addresses. Due to legal restrictions, this promotion is not available in Arizona.
Please see our site's Terms and Conditions of Use for a complete list of our Contest and Giveaway Rules.