This post may contain affiliate links. Read my disclosure policy here.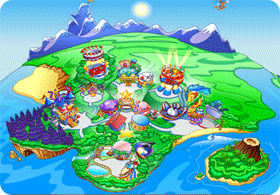 Varsity Heights is the new virtual world for children who are sports fans, allowing them to kick balls, score touchdowns, and shoot pucks all in the comfort of their bedroom.
Founded by Caryn Burns and Cindy Prince, two moms with a passion for sports, fitness and their children, AllStarBuddies.com is a safe, virtual "playground" for kids (ages 6+) where a healthy, positive lifestyle is reinforced through fun games, quests and social interaction.

Using individual and multi-player games, children learn about problem-solving, goal setting, good sportsmanship, teamwork, fitness, good nutrition and environmental awareness – all while having a fun online experience that will keep them coming back for many "extra innings."

Sports also set the stage for fun competitions, games, activities and adventures," said Caryn Burns, Co-Founder. "But most importantly, the fun doesn't stop when a child logs off the site. It is our hope that kids will pick up a football or a tennis racket after signing off of AllStarBuddies.com and continue the action outdoors with a parent or friend."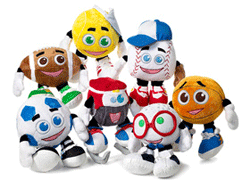 To go along with the virtual fun, All Star Buddies also sells the seven plush characters found in the virtual world. Each one comes with a special code which unlocks fun games and bonuses in Varsity Heights.
Your child can choose from:
Chip, the brainy buddy who loves to play golf and enjoys exploring plants and insects.
Ace, the friendly buddy who loves baseball and astronomy.
Deuce, who likes tennis and can teach your child about his other hobby, learning about the ocean.
Deke, who has fun playing hockey as well as science, specifically learning about liquids, solids and gasses.
Swish, the basketball and dinosaur loving buddy.
Blitz, the strong football playing buddy who knows the importance of eating right and exercising.
Striker, who travels a lot as the soccer playing buddy and loves learning about other languages and cultures.
In Varsity Heights, each character not only plays games associated with their sport, they also teach your child about math, health, science and humanities.
You and your child can head on over to Varsity Heights right now to begin your membership for some educational fun.
We also have one plush buddy to give away to one lucky winner, that will allow your child a chance to unlock some extra fun.
We would also like to thank All Star Buddies for their generous donation of a plush buddy for our Under The Tree Program..

Here's how to enter to win an All Star Buddy, retail value $19.00.
See our Christmas Giveaway 2008 post to read more about
participating in our Christmas Giveaway

Either link back to this post and include a Christmas Giveaway 2008 button in that post or on your sidebar, or link to the individual giveaways you choose to enter. We have a ton of different buttons and styles for you to choose from. Click here to get the button codes. (If you post and include the button, either in your post or on your sidebar, and link back here, you are good for all the giveaways. No more linking required.)
Please leave one comment below to enter this giveaway. You may earn additional entries for the following:
1. Subscribe to our Feed
2. Sign up for our Newsletter
If you are already subscribed and are on our newsletter list, you qualify for these two additional entries. Go ahead and leave your additional comments below.
As always, non bloggers are welcome to participate! We understand you can't link – but please spread the word to your friends via facebook, twitter, etc.
Entries are open from Saturday, November 15th thru Friday, November 28th at 12pm EST.
Our winner will be drawn randomly and we will announce the winner Monday, December 1st. Please make sure to check our site and your email address to see if you have won a prize. We must receive your reply within 5 business days. (If you want your prize to arrive in time — the sooner we hear from you, the better!)
This contest is open to US shipping addresses. Due to legal restrictions, this promotion is not available in Arizona.
Please see our site's Terms and Conditions of Use for a complete list of our Contest and Giveaway Rules.