This post may contain affiliate links. Read my disclosure policy here.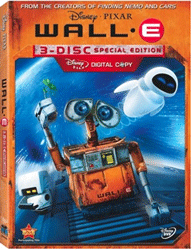 Sure to be on most children's wish lists this holiday season, Disney Pixar's box office favorite, WALL•E , is hitting store shelves on November 18th.
After hundreds of lonely years of doing what he was built for, WALL•E (short for Waste Allocation Load Lifter Earth-Class) discovers a new purpose in life (besides collecting knick-knacks) when he meets a sleek search robot named EVE.

EVE comes to realize that WALL•E has inadvertently stumbled upon the key to the planet's future, and races back to space to report her findings to the humans (who have been eagerly awaiting word that it is safe to return home).

Meanwhile, WALL•E chases EVE across the galaxy and sets into motion one of the most exciting and imaginative comedy adventures ever brought to the big screen.

Joining WALL•E on his fantastic journey across a universe of never-before-imagined visions of the future, is a hilarious cast of characters including a pet cockroach, and a heroic team of malfunctioning misfit robots.

WALL•E's voice cast includes Jeff Garlin ("Curb Your Enthusiasm"), Elissa Knight (Cars), Sigourney Weaver (Alien), John Ratzenberger (Toy Story), Kathy Najimy ("King of the Hill") and Fred Willard (Chicken Little). Academy Award®-winning sound designer Ben Burtt (the Star Wars and Indiana Jones franchises) provides the endearing voice of WALL•E, the little robot who never quits.
Consumers can choose from two exciting Blu-ray disc versions and from three standard definition DVD versions. The stunning Blu-ray release (both two and three-disc versions) of WALL•E offers audiences the chance to really enjoy the true colors, depth and sound exactly as the filmmakers envisioned it!
Each home entertainment release contains the feature film and a payload of fantastic bonus features, including an exciting all-new animated short film BURN•E, the story of a stalwart repair robot by the same name who is determined to do his job, but is foiled at every turn by WALL•E's adventures aboard the Axiom..*
For a tast-E sampling, please enjoy this fun video of lovable WALL•E.

We have two copies of the 3-Disc standard definition DVD Version of WALL•E to give away, which includes the "DisneyFile" Digital Copy which will allow viewers to enjoy Wall•E via a computer laptop or other portable device. The Triple Disc DVD is priced at $39.99 (U.S.) and $46.99 (Canada).
Here's how to enter:

See our Christmas Giveaway 2008 post to read more about
participating in our Christmas Giveaway

Either link back to this post and include a Christmas Giveaway 2008 button in that post or on your sidebar, or link to the individual giveaways you choose to enter. We have a ton of different buttons and styles for you to choose from. Click here to get the button codes. (If you post and include the button, either in your post or on your sidebar, and link back here, you are good for all the giveaways. No more linking required.)
Please leave one comment below to enter this giveaway. You may earn additional entries for the following:
1. Subscribe to our Feed
2. Sign up for our Newsletter
If you are already subscribed and are on our newsletter list, you qualify for these two additional entries. Go ahead and leave your additional comments below.
As always, non bloggers are welcome to participate! We understand you can't link – but please spread the word to your friends via facebook, twitter, etc.
Entries are open from Tuesday, November 11th thru Friday, November 28th at 12pm EST.
Our winner will be drawn randomly and we will announce the winner Monday, December 1st. Please make sure to check our site and your email address to see if you have won a prize. We must receive your reply within 5 business days. (If you want your prize to arrive in time — the sooner we hear from you, the better!)
This contest is open to US and Canadian shipping addresses. Due to legal restrictions, this promotion is not available in Arizona or Quebec.
Please see our site's Terms and Conditions of Use for a complete list of our Contest and Giveaway Rules.
Thank You, Walt Disney Home Entertainment for your donation of a copy of Wall•E for our Under The Tree Program.