This post may contain affiliate links. Read my disclosure policy here.

Susan and I love being twins. We often say, if everyone in the world had a twin, the world would be a happier place.
But we had the easy part. We were the kids causing the chaos, filling the diapers, scrapping over toys – parents of multiples are the ones with the hard job!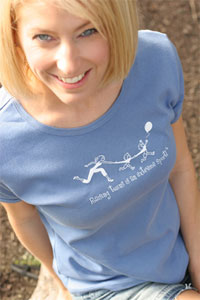 And the only people who really know HOW hard that job is are the parents of multiples.
Beth, owner of Multiple Moms Rock, says that common bond between moms of multiples is the inspiration behind Multiple Moms Rock.
"The parents across America and throughout the world who have lived through nights of two, three, four and more babies crying, boxes upon boxes of diapers and the expense of doing everything at once (shoes, preschool, new bikes) share a common bond. Nobody understands quite like a mom, dad, or grandparent of multiples. We don't need to explain anything to each other. We all remember. We all get it.

One of my goals is to honor those who put in those late nights trying to quiet a baby while keeping the other asleep, or negotiate "fairness" between toddlers. You deserve to be appreciated."
Multiple Moms Rock's apparel pairs humorous sayings with fun designs for moms, dads and grandparents of twins, triplets and quads.
What impressed me most when I received the sample from Beth was the great quality of the shirt. It wasn't your run of the mill, flimsy t-shirt. It was well made, well designed and very comfortable.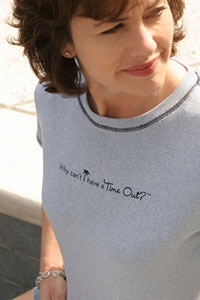 Multiple Moms Rock is the PERFECT place to buy a gift for a mom of multiples – or even moms of singletons. (The sample Beth sent us says, "Why Can't I Have a Time Out?" As moms, we all know that every mom deserves a Time Out!)
So, if you know someone expecting or coping with multiples, head over and stock up. These well made shirts can both make a mom laugh and become a favorite tee.
And while you are at Multiple Moms Rock, stop by Beth's Tips section. She has included some great ideas that can make parenting just a little bit easier. (I am totally going to do the tennis court trick with Olivia and Sophia.)
Feel free to write a tip or two of your own. With your permission, she'll include your name, type of multiples (fraternal boys etc.) and the state and country you're from.
If you want to win a Multiple Moms Rock t-shirt, retail value of $22-24, for you or someone you know, (remember – the Time Out t-shirt is perfect for moms of singletons or multiples!) enter here at this post.

Here's how to enter:
See our Christmas Giveaway 2008 post to read more about
participating in our Christmas Giveaway

Either link back to this post and include a Christmas Giveaway 2008 button in that post or on your sidebar, or link to the individual giveaways you choose to enter. We have a ton of different buttons and styles for you to choose from. Click here to get the button codes. (If you post and include the button, either in your post or on your sidebar, and link back here, you are good for all the giveaways. No more linking required.)
Please leave one comment below to enter this giveaway. You may earn additional entries for the following:
1. Subscribe to our Feed
2. Sign up for our Newsletter
If you are already subscribed and are on our newsletter list, you qualify for these two additional entries. Go ahead and leave your additional comments below.
As always, non bloggers are welcome to participate! We understand you can't link – but please spread the word to your friends via facebook, twitter, etc.
Entries are open from Saturday, November 8th thru Friday, November 28th at 12pm EST.
Our winner will be drawn randomly and we will announce the winner Monday, December 1st. Please make sure to check our site and your email address to see if you have won a prize. We must receive your reply within 5 business days. (If you want your prize to arrive in time — the sooner we hear from you, the better!)
This contest is open to US and Canadian shipping addresses. Due to legal restrictions, this promotion is not available in Arizona or Quebec.
Please see our site's Terms and Conditions of Use for a complete list of our Contest and Giveaway Rules.
Thank you Multiple Moms Rock for your generous donation to our Under The Tree Program.