This post may contain affiliate links. Read my disclosure policy here.
12/2015: The Chipmunks are back. Read more about Alvin and The Chipmunks: The Road Chip, in theaters December 18.
I recently attended a press junket (sponsored and paid for by Twentieth Century Fox) for Alvin's new movie Chipwrecked. Read my first post (and enter the giveaway there) about the legacy of Alvin and the Chipmunks and the family friendly nature of this G-rated film and franchise.
That was all business, but this is all fun. I hope you enjoy watching these clips as much as I enjoyed making them. But what you don't know, is before we had fun in front of the camera, we had already been entertained (and informed) in our interviews with producers Janice Karman and Ross Bagdasarian, Jr. and especially the director Mike Mitchell (seriously — after interviewing a few directors, I've decided that they are smart and adorable people).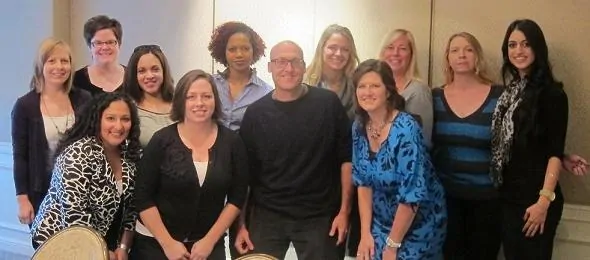 For example, when we asked to take a group photo with him, he said (paraphrased) "Well, sure, but what are you going to do with it? Send it out in Christmas cards? Like 'Who's the bald guy?'"
In order to fit us all in, some of us end up squishing down so that we can stand in front of people, and he sort of joined right in. It was very funny. I'm pictured above (to your right of Mike) with the fantastic group of bloggers who were on this junket. We all had a great time: Jen , Stacey (and guest contributor right here at 5 Minutes for Mom!), Caryn , Tabitha Lady and the Blog, Chelsea Breezy Mama, Kristin Role Mommy, Sherry Momtastic, Mona Modern Mom, Sarah Momma Findings, Sara Babycenter.

I worked really hard to link to some of their coverage above, so check out their thoughts on the movie, director Mike Mitchell and actor Jason Lee (some of them are even giveaways!).
Interviewing the Chipmunks
Fun facts from the Filming from director Mike Mitchell
The same technology is used to create the squeaky voices as back in the 50's when The Christmas Song was first recorded, introducing the chipmunks. Basically it's recorded and slowed down using reel to reel technology. Otherwise it sounds too computer-generated. Who says newer is always better??
Actors have to speak more slowly so that their expression is preserved when the effect is added, which was a special challenge for Alan Tudyk who voices Simon who was transformed into the French Simone for much of the film.
The cruise scenes were filmed on a real cruise and real passengers were used as extras. Wouldn't it have been fun to book that cruise?
"Stuffies" on sticks were used to stand in for the chipmunks in filming. Jason Lee (Dave Seville) said that this wasn't done on the first film, and it made it much easier, since all of the chipmunks are different heights.
Making the Chipmunks look like they were hanging out on a desert island made it harder for the digital artists, but they did a great job of letting them look dirty or bedraggled. All of us bloggers wondered about Zoe, the woman they encountered on the island. We thought she was awfully well-groomed for a castaway. However, Mike told us that there was an entire part of her island hut devoted to her beauty aids. Unfortunately that part ended up on the cutting room floor. We were joking about it really, but it was interesting to hear that sort of thing was actually discussed.
Merry Christmas!
I don't know if movies are part of your holiday plans, but there are so many good ones out there, and between Lolli and me, we'll be sharing a lot more info right here at 5 Minutes for Mom about Chipwrecked, We Bought a Zoo, War Horse, and more, so stay tuned!
Alvin and the Chipmunks: Chipwrecked opens December 16 and is rated G.