This post may contain affiliate links. Read my disclosure policy here.
I made the mistake of letting my girls play games on my iPhone. Now if I try to check email or send out a tweet, I've got my 4 and 6 year old fighting to play with it. Never mind my email, now I'm busy helping them download apps and take turns.
Well, I'm going to be reading a lot more email now…
Yes, I have the answer and it is NOT buying them their own $600 iPhones…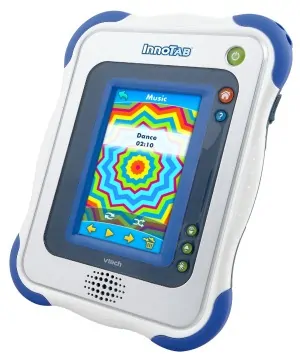 Let me introduce you to the $79 InnoTab Interactive Learning App Tablet.
It is made for kids and priced affordably for parents.
The InnoTab is a multi-function tablet for children using the latest technology to provide interactive and animated e-books, learning games, creative activities.
And yes mom, it's durable.
I love that it's ready to play right out of the box with e-books, games, music and video players ­and more. There's also a cartridge library and downloadable titles available.
And my girls love that it has a tilt-sensor game control like they're used to on my iPhone.
Check out this video and you'll see what I'm talking about…
I can't believe what kids get to play with these days. I sure wish I had one of these tablets when I was a kid.
But the most important thing here is that YOU can get your iPhone back and your kids can play and learn on their own InnoTab Interactive Learning App Tablet.
Enter To Win an InnoTab
The InnoTab is perfect for kids ages 4 to 9 years old. If you have a child that would love an InnoTab, leave us a comment and let us know.
This giveaway is open to US shipping addresses only. It will end on November 4, 2011 at midnight ET and a winner will be chosen at random and announced the following Sunday in the weekly Around The Blogosphere. Please see our site's terms and conditions for more information.
Disclosure: We received a sample InnoTab for purposes of this review and one to give away. All thoughts and opinions remain our own.
Written by Susan, co-founder of this Mom Blog 5 Minutes for Mom

Do you like saving money? Then you'll "Like" our 5 Minutes for Deals Facebook Page.