This post may contain affiliate links. Read my disclosure policy here.
I'm over at Momversation talking about an uncomfortable but critical topic…
Talking to our Kids about Sexual Abuse.
I know you don't want to even think about it, but we must talk about it to give kids the words and the confidence to speak up if they are a victim of abuse.
It can be really difficult to bring up the discussion and to know what to say. Here's one very creative and effective way that one aunt taught her niece to stay safe.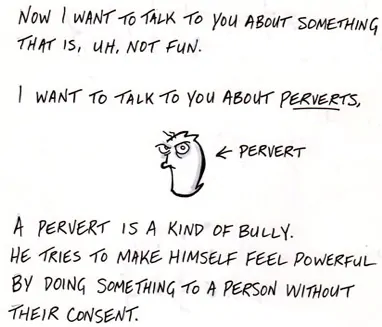 After I read that brilliant set of sketches, I decided to share with my 6 year old daughter about the time when a man on a bus exposed himself to me. I was only 6 years old when it happened, so I decided to explain to Julia, in very simple terms, what types of things can happen and what to do if it does.
We had a good conversation and I feel like it was a good step. But, I'm not done… keeping communication open about tough topics is an on going challenge.
What about you?
Have you talked to your kids about sexual abuse? At what age(s), when, how often and what have you said?
Come over to Momversation and let's help each other talk to our kids and break the patterns of children becoming silent victims of sexual abuse.
Written by Susan Carraretto, co-founder of the Mom Blog 5 Minutes for Mom.
Talk with me: @5minutesformom and Facebook.com/5minutesformom.