This post may contain affiliate links. Read my disclosure policy here.
I confess, I LOVE TV.
Not mindless channel surfing — that I loathe. No, I love only a select few dramas and comedies. I TIVO those favorites and cherish a few moments of late night escape or light laughs.
Yes, as a ridiculously busy work-at-home mom, I do NOT really have time to watch TV… and over the summer, my TV hasn't played anything but Super Why, Little Einsteins and the like. But wow, I have missed it! And I am so happy the new season is here so that I can indulge in some weekly treats dished up just for Mommy.
Janice usually hooks me up with the names of the best shows to schedule on my TIVO. Somehow, she always seems to know what to watch… which makes me suspicious… how much time is she spending watching TV when I'm busy working… hmmmm… But, I digress…
This year, I will be watching four shows: The Office, Desperate Housewives, Brothers & Sisters and Samantha Who.
The first two I have been watching since their first seasons, but to the latter two, I'm a latecomer.
Two years ago, during the first season of Brothers & Sisters, Janice got hooked. But I refused to watch. I was trying to break my TV addiction and I could not afford a new show.
I kept to my two favorites (The Office and Desperate Housewives) and some Grey's Anatomy. But in the summer before the second season started, I saw a Brothers & Sisters Season 1 rerun. It only took one episode.
I called Janice. "Why did you let me miss this show?" I shrieked.
"I told you." She said.
"You didn't tell me it was THAT good!!!" I replied.
So that summer, I caught up on old episodes and entered the 2nd season as a full addict. And now Season 3 is here and it's ranked at priority 3 on my TIVO.
Here's a taste of Brothers & Sisters: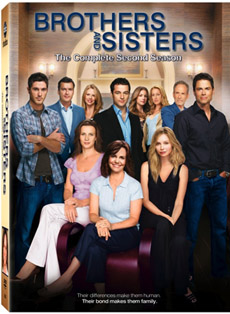 And my fourth and final indulgence this year will be Samantha Who. Again, Janice has influenced me here. Janice insists Samantha Who is her favorite comedy and that Christina Applegate deserves to be scheduled into my TIVO. So Samantha Who will be officially taking up my fourth and final spot in my roster of must-see TV.
Here's a shot of Samantha Who: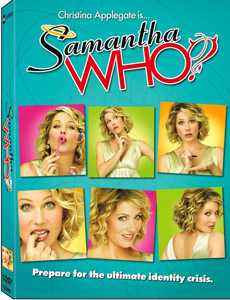 So what about you? Do you have any TV addictions?

Have you ever watched Brothers & Sisters or Samantha Who? Would you like to win a DVD set of Brothers & Sisters: The Complete Second Season OR Samantha Who? The Complete First Season.
Leave us a comment and let us know about your TV viewing habits and whether you'd like to win Brothers & Sisters or Samantha Who.
We'll draw one winner for each DVD set on Saturday, October 18th. (US shipping addresses only.)