This post may contain affiliate links. Read my disclosure policy here.
I believe I am a good mother and I do everything I can to make the best life for my girls.
But I have weaknesses and a full stockpile of mommy-guilt. One area where I feel I fall short is in the good old fashioned homemaking talent of growing and preserving your own food. I see beautiful blog posts from friends who show photos of the amazing fruits of their gardens and tell stories of teaching their children to garden and preserve foods.
Well, I have a townhouse with a tiny backyard, a fear of bugs, a disdain for dirt, and so little knowledge of preserving foods that an attempt to do so would be dangerous.
I've always assumed I'd just let my failure to introduce my kids to gardening and growing vegetables add another layer to my mommy-guilt.
But, no longer… I have a successful TACKLE to report…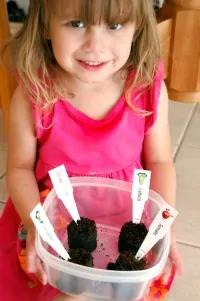 Thanks to a fabulous swag item (retail price $9.99) that I received at a party during BlogHer, my children have officially planted carrots, cucumbers, tomatoes and lettuce!
Yes, I am thrilled by this adorable little kids gardening teaching tool called Growums.
My children and I spent about 30 minutes going through this special kids gardening activity and I think it is now one of my favorite teaching activities for children. It was simple and didn't take too much time which was important for my 3 year old's attention span, but educational and advanced enough to inspire my 6 year old.
We watched a couple quick videos on the website, followed the simple instructions and had some fantastic conversation about gardens, vegetables and healthy eating.
The girls are excited to watch their little gardens grow and I'm relieved that I can take my mommy-guilt down a small notch. Perhaps this little step into gardening will take us further towards creating a real garden one day.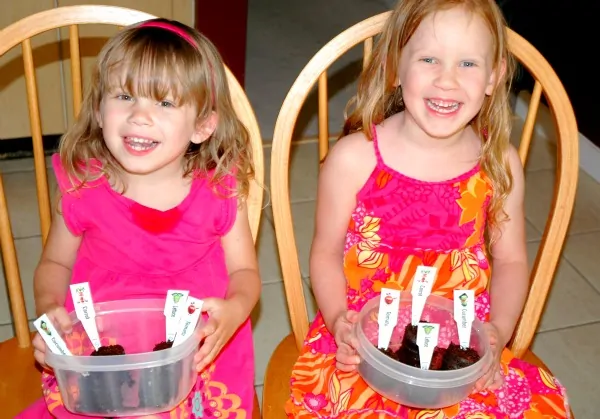 What about you? Do you garden? Have you taught your kids gardening basics?
Written by Susan Carraretto, co-founder of the Mom Blog 5 Minutes for Mom.
Talk with me: @5minutesformom and Facebook.com/5minutesformom.
In case you are wondering, this is NOT a sponsored post. I received a sample item worth $9.99 during a party at BlogHer. I sincerely love the product and wanted to share about my experience.