This post may contain affiliate links. Read my disclosure policy here.
I love to take photos.
I love to grab as many of those fleeting moments of childhood as I can to stash away for the future.
But when I am at an event or out with family and friends, I often hesitate to pick up my camera. Why???
Because as much as I love taking photos of children, I hate even more the guilt of my overloaded hard drives packed with photos I never get distributed.
My life is so busy – and I am such a procrastinator – that I never make up CDs for people. And since the files are too big, I can't email more than a few shots at a time. Plus, if you knew how behind I am on emails, you would understand that adding more emailing tasks to my life is more than stressful.
I don't even take the time to print and frame pictures for my own home! The only shots I do have displayed are some random 4x6s I have plastered on my fridge.
I have an abandoned scrapbook table with hundreds of dollars of supplies that I left waiting for me in my basement when I started blogging. I ache to spend hours artfully arranging my children's memories. But right now that is just not going to happen in my schedule.
If it weren't for my blog, my precious photos would be completely unappreciated, hidden away in hard drives.

But Shutterfly is doing their best to reform photo hoarders like me!
The new Shutterfly Share Sites combine the best of photo sites, blogs, and social networking in a way that allows customers to easily connect and collaborate with friends and family in a safe and secure environment.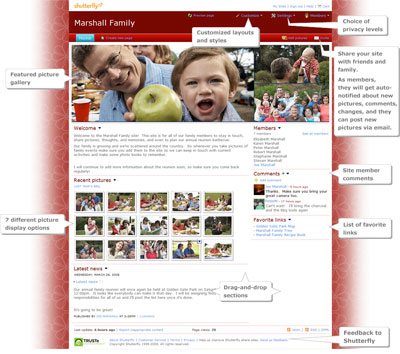 The Share Sites are a fantastic solution for "multiple camera, single event" photo occasions like family reunions, weddings and team sporting events. You can set your Share Site up so that your family and friends can upload their photos, add comments etc.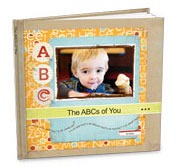 As well, Shutterfly added the ability for customers to post and share their photo books on their personalized Share Sites. Once a photo book has been added, Share Site members can preview the book, add comments and order their own copy. If customers wish to create their own version of the book, a one-click process allows them to save it to their Shutterfly account and edit accordingly.
Setting up your Share Site is super simple and their new uploading system is quick and easy too. Within minutes, you can have your latest photos up and ready for sharing – and ordering.
With Shutterfly Share Sites, there is hope for even delinquent photo sharers like me!
To get you all in the photo sharing mood, we of course have a little contest fun.

Leave a comment here for a chance to win $50 to spend at Shutterfly.
With $50 bucks – you can have some serious Shutterfly fun! We will announce the winner October 4th. Good Luck and Get Sharing!
PS – I am off to make up a Share Site for Susan so her in laws in Italy can get all her latest photos of Julia and Sophia…