This post may contain affiliate links. Read my disclosure policy here.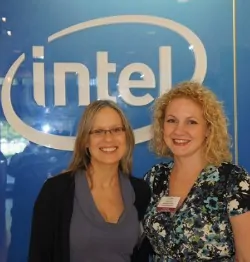 For the past two weeks I've been reflecting on what I saw and heard inside Intel's Silicon Valley headquarters.
My impression of Intel as a corporation went through a major "upgrade" on July 13, 2011.
Before I took my seat amongst the dozen other Tech and Mom/Dad Bloggers at Intel's Upgrade Your Life event, I'd simply thought of Intel as a chip company. I never considered they may actually be changing the world outside the box.
Well, I'd feel a little silly admitting that limited view except almost everyone else said the same thing. When we think of Intel, we think, "Oh yeah, Intel Inside®. They make chips."
Yes, they make darn good processors, but they've got bigger stuff going on…
Changing The World
I loved hearing that Intel is putting Gandhi's wise words into action.
"Be the change you want to see in the world." ~Gandhi
Throughout the day we saw examples of the positive change that Intel is bringing globally.
A couple of stories really stuck with me and I think they illustrate the importance of Intel's work.


A Grandmother In America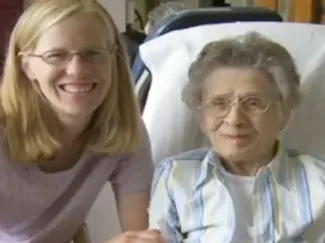 Dr. Eric Dishman, Intel Fellow and Director of Health Innovation and Policy, shared a moving story of how his wife's grandmother died unnecessarily from hospital errors after a fall in her home.
Eric's team is researching and developing profound yet simple and affordable technical solutions to help keep seniors safely in their homes and improve their quality of life and their health care.
Watch this Discovery Channel video to find out how this expert in fall prevention still lost his grandmother-in-law to death from an unnecessary fall and how his research and product development can prevent future suffering.
A Young Girl In India
Dr. Joya Chatterjee, who helped launch the Intel Education Service Corps, shared another deeply personal story that will stay with me.
Tears came to her eyes as she told us about a young girl in India who Dr. Joya Chatterjee's team taught to use a computer. The bright young girl learned quickly and immediately began teaching the younger children.
That afternoon instead of her usual job as a dishwasher, she was assigned the task of teaching the younger children. She thanked Joya and told her that now she can imagine a future as a teacher instead of as a servant.
My Upgrade
These two very human stories of global thinking and positive change represent what I learned about Intel during this media event. We saw many examples of tangible evidence and working prototypes of exciting product development that won't fit in this blog post.
But if I can share my "upgraded" impression of Intel with you in a few words it would be that I'm hopeful and relieved that such an influential and powerful corporation is taking on tough global challenges and creating responsible solutions driven by technology.
Written by Susan Carraretto, Mom Blogger and 5 Minutes For Mom Co-Founder
Stay with us… grab our RSS feed, tweet with us and join our newsletter list.
Disclosure: Travel and accommodation costs were covered by Intel. Also I was given an Acer netbook at the event.