This post may contain affiliate links. Read my disclosure policy here.
When NEAT Receipts contacted me recently and asked if I wanted to try out their new Mac version after the success of our first NEAT Receipts giveaway, I knew that some of you Mac-users would be interested. Not being a Mac girl myself, I asked my friend Katrina to try it out for me.
Katrina's blog, Callapidder Days, is one of my favorites (and not just because she's one of my best friends). She writes about a variety of topics–from frustrations at the grocery store, to parenting (a wise-beyond-his-years tween and a typical toddler), to game reviews and recommendations–and everything is so clever that it makes you smile, nod, and wish that you could write like that.
Here's her review:
Last summer, 5 Minutes for Mom held a giveaway for the NEAT Receipts scanner, a nifty tool geared at helping you tame your paper piles. Though I wasn't one of the lucky winners, I filed the product's name away in the back of my mind as something I definitely wanted to get someday. But then I became a Mac girl and figured I was out of luck.
Well, I'm thrilled to announce that NEAT Receipts has recently announced the Advance Release of NEAT Receipts for Mac! And five of you will win one!
When this sleek little tool arrived at my house, I didn't even have to think twice about how I would use it. We are finishing a basement remodel and I have a file folder stuffed with receipts, invoices, packing slips, and various documents related to that project. Even though all the items are technically contained in a single folder, the overflowing stash of paper was still stressing me out.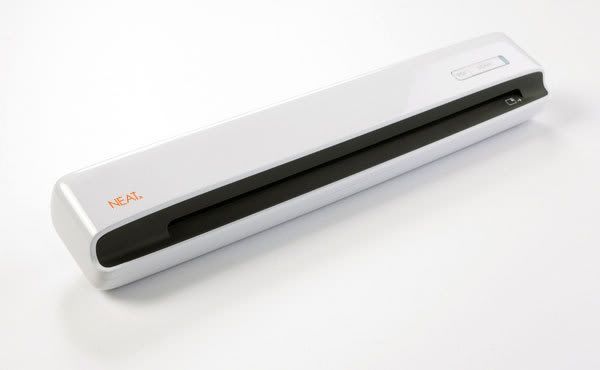 NEAT Receipts to the rescue! It took me less than ten minutes to get NEAT Receipts up and running. I installed the software on my MacBook (and, by the way, the redesigned scanner coordinates perfectly with the MacBook – sleek, clean, white, very spiffy-looking). I registered my scanner online, took the virtual tour, and got right to work.
Using the NEAT Receipts scanner couldn't be easier. Simply place the edge of your receipt or document in the scanner's opening and press the Scan button. The paper is fed through the scanner and the software takes over. The NEAT Receipts software "reads" your receipts and records all the relevant information – vendor, transaction date, price, etc. So not only do you have a PDF version of your receipt (so you can finally toss the hard copy in the trash), but you also have the key data from that receipt available for sorting, searching, exporting, or anything else you might need to do with it.
I already have future scanning projects lined up. My husband is looking forward to handing over all his travel expense receipts and "letting" me create his expense reports. I have tax-related receipts and documents, kids' artwork (I can't keep every drawing, even though I'd love to), and recipes that I've clipped from magazines. All of them are scheduled to be scanned soon. It will be great to have a usable filing cabinet again. NEAT Receipts will definitely help me reduce the paper piles that threaten to take over this house.
Note: The Mac version of NEAT Receipts is an Advance Release, so that means it doesn't have all the bells and whistles that the PC version does…yet. However, an update will be released in early 2009, and anyone who has purchased (or who wins) the Advance Release version will receive a free upgrade. You won't miss out on anything. In fact, you've got nothing to lose except piles of paper!
If you'd like to win one of five of the NEAT Receipts for Mac, leave a comment here. We'll publish the winners on July 24.