This post may contain affiliate links. Read my disclosure policy here.

Ahhh… True Compatibility! Thanks to Office for Mac 2011, Janice and I are getting along again.
You see, Janice and I are twins that work together… and now thanks to Office for Mac 2011 my Mac and her PC can work together just as well.
Let me explain… Over the years, Janice and I have always both been PC users. Our fears of getting used to new keyboard shortcuts and coping with compatibility issues kept us away from branching out into the Mac world.
But one day, several months ago, I gave in to curiosity and bought a MacBook Pro. We couldn't believe it had finally happened. We were split in separate camps.
I enjoyed my new life as a Mac. Janice feigned envy, but I could tell she couldn't stand my Mac's delete key and her fingers weren't ready to retrain away from Ctrl+C and Ctrl+V.
In some ways, we got along fine… I as a Mac and she as a PC.
And I thought I could survive without owning Office for my Mac. I bought iWork and figured I could get by with Google Docs, iWork and Mac Mail.
But I kept hearing myself say things like…

"Janice, you update that document! I don't even have Word on my machine."
"No, I didn't see that email… I can't see your categories!"
"I can't update your Powerpoint presentation, the formatting is messed up when it converts to Keynote."
We needed to make this work, but there was clearly one thing missing in our new relationship…

Thankfully, at Mom 2.0 in the Microsoft Lounge, Janice met someone who could help. She hooked me up with Office for Mac 2011 and got Janice a copy of Office 2010 for her new HP Pavilion dm1.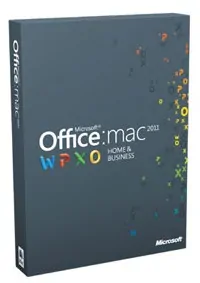 (By the way, we're giving away an HP Pavilion dm1… click over to win it.)
Now, we have true twin compatibility again.
But of course, this isn't all about us… our friends at Microsoft want you to experience the bliss of Office for Mac 2011, or if you're a PC user, Office 2010.
So leave us a comment and tell us which you'd like to win… the PC version or the Mac version.
As part of our Mother's Day Giveaway event we will pick one random comment asking for Office 2010 for PCs and we'll pick one asking for Office for Mac 2011.
Happy Mother's Day…
Let's ALL get along.
This giveaway is open to both US and Canadian shipping addresses and is void where prohibited. Be sure to check out our site's Terms and Conditions of Use for more information.
Entries close Saturday, May 7th and we'll announce our winners along with all of our other Mother's Day Giveaway winners, on Sunday, May 8th.
Disclosure: As I mentioned, Microsoft gave Janice and I each a copy of Office. Of course, all opinions are our own.
Written by Susan Carraretto, co-founder of the Mom Blog 5 Minutes for Mom.
Talk with me: @5minutesformom and Facebook.com/5minutesformom.