This post may contain affiliate links. Read my disclosure policy here.

Okay ladies — start crossing your fingers for this one…
We have one HP Pavilion dm1 to give away this Mother's Day!!!
HP Pavilion dm1 — Power AND Mobility
I have a very large laptop. It is huge and heavy and its battery lasts barely an hour. Sure it is great when it stays put on my kitchen table, hooked up to a power strip. But you should see me lugging it through airports and conferences. Not fun! And, with very few airplanes having power supplies, I am hooped when it comes to working on long flights.
So, when HP emailed me about testing out their new HP Pavilion dm1 for Mom 2.0 Summit, I was thrilled.
The HP Pavilion dm 1 has the POWER of a notebook with the MOBILITY of a netbook! — JUST what I need!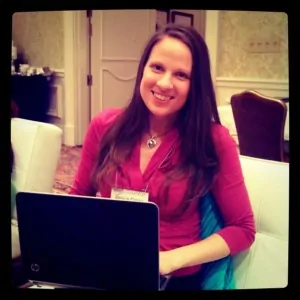 I have used "minis" before and they just don't have enough ummph to get the job done for me. I need to run Lightroom, Photoshop Elements, and more when I am working. And I need enough space to store my photos and files too!
The HP Pavilion dm1 with VISION Technology from AMD has a full processor and so, despite its sleek, small size, it has the power of a full size computer.
The dm1 features an 11" display, it weighs just over 3 lbs and is about an inch thin. It also has a built-in webcam, which is essential these days!
The battery life on the dm1 is excellent. It lasts up to 9 hours — and I found I could get about 4-5 hours of hard core usage out of one charge — running Lightroom, Firefox and other programs at the same time.
It also features CoolSense technology that knows if the notebook is on your lap or the countertop and adjusts its temperature accordingly. I love this feature! I often work in bed, next to Olivia while she sleeps. The dm1 stays cool and with its advance design, I don't have to worry about it overheating. Brilliant!
It doesn't have a CD/DVD drive, so that is a con if you want to use it play DVDs. I usually rent my movies online and download them anyway, so it isn't too much of a problem for me. There is also an optional external CD/DVD drive for installing software or Blu-ray drive for watching HD movies.
In all, I am impressed with the dm1. I can easily slip it into my purse and yet still get the power I need to work.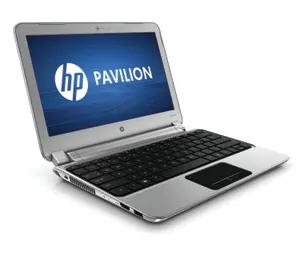 Here are some other features included with the HP Pavillion dm1.
Integrated Wireless- for access within range of a hotspot (Bluetooth is optional)
VGA webcam for staying connected with friends and family
VGA port for connecting a monitor
Three USB ports for connecting accessories
A multi-format digital media card reader for Secure Digital and MultiMediaCard
A dual-core AMD Fusion processor E350 for fast Web surfing and smooth HD video
Genuine Windows 7 Home Premium
Dolby advanced audio and Altec Lansing speakers for premium sound
ENERGY STAR® qualification

The dm1 is available at HP Home & Home Office now at a starting price of $449.99
We have one HP Pavilion dm1 with VISION Technology from AMD to give away to one lucky mom. To enter, please leave a comment below. We would love to know how the dm1 would make your life easier. Additionally, we will give you an extra entry for following @HP_PC on Twitter.
This giveaway is open to US Residents only and closes on Saturday, May 7th. We will announce our winner, along with our other Mother's Day Giveaway winners, on Sunday, May 8th.
This giveaway is part of our Mother's Day 2011 Giveaway event.
While HP provided one HP Pavilion dm1 for review purposes and an additional unit to giveaway, all opinions are my own.