This post may contain affiliate links. Read my disclosure policy here.
With gas prices as high as they are, it's been estimated that fewer people will be driving over 50 miles for vacations this summer. We are actually trying to decide what we're going to do this summer (not because of gas prices, but because of other factors). We will either spend 4 days at the beach as we have the last couple of summers, or we will take some of those vacation days and dollars to take in some experiences in the area. I'm lucky to live within a couple hours of both Boston and New York City, so we have a lot of options for local fun.
One great opportunity that is coming to New York City this summer is
Walking with Dinosaurs, the Live Experience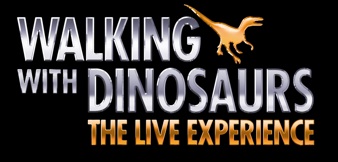 If you live in the New York City area, or would be willing to travel there to attend this show on August 2, you can win this experience:
One Family 4 pack of tickets that are good for Saturday, August 2 at 7 pm at Madison Square Garden. These tickets are the $55 seats (Value $220+)
The show depicts the dinosaurs' evolution, complete with the climatic and tectonic changes that took place, which led to the demise of many species. With almost cinematic realism, WALKING WITH DINOSAURS has scenes of the interactions between dinosaurs, and the audience sees how carnivorous dinosaurs evolved to walk on two legs, and how the herbivores fended off their more agile predators.

The history of the world is played out with the splitting of the earth's continents, and the transition from the arid desert of the Triassic period is given over to the lush green prairies and forces of the later Jurassic. Oceans form, volcanoes erupt, a forest catches fire — all leading to the impact of the massive comet, which struck the earth, and forced the extinction of the dinosaurs.

Variety said, "The dinosaurs are stunning, life-size and faultlessly nimble. In act one, the beasts parade into the arena gnashing and cavorting as a safari-suited paleontologist describes their attributes … in the second half, the action cranks up, culminating in a spectacular clash as a T-Rex mom defends her baby from predators. Sonny Tilders' triumphant creature design ensures 'Walking With Dinosaurs' is a truly spectacular spectacular. It is everything a dino-phile could want."

Newsweek called the show, "that rare entertainment beast that parents and kids can enjoy together."
I love sharing these types of experiences with my kids. The expressions on their faces and learning and enjoyment that occurs is priceless (or worth the big bucks that these kinds of events always cost).
Even if you don't win, or if you'd like to attend on another date, you can purchase discount tickets with the code One2One, which is good for 10% off the price of the $35 and the $55 tickets at Madison Square Garden Only:
Use Discount Code: One2One when you purchase $35 or $55 tickets (not good on the $74 or $99 tickets) to any one of the following shows:
WEDNESDAY, JULY 30, 2008 – 3PM & 7PM
THURSDAY, JULY 31, 2008 – 11AM & 7PM
FRIDAY, AUGUST 1, 2008 – 11AM & 7PM
SUNDAY, AUGUST 3, 2008 –7PM
Tickets are available at the Madison Square Garden or Radio City box offices, select Ticketmaster outlets and Ticketmaster phone charge (212-307-4111, 201-507-8900, 631-888-9000, 845-454-3388) or online at thegarden.com and ticketmaster.com.

If you'd like to win this family 4 pack of tickets to Walking with Dinosaurs leave a comment here. Because this is a local event, I will only select a winner that acknowledges in the comment that you understand it's in New York City on August 2, and you are available to attend at that location on that day. You don't have to be local, but you have to be willing and available to travel there.
So, leave a comment, and spread the word! The winners will be announced on June 24 with the others from the Creative Summer Days giveaway event.
Thanks to One2One Network for sponsoring this giveaway. If you'd like to find out how you can get involved in helping to spread the word of mouth on exciting events and products (such as this one), click on over to find out more about it.