This post may contain affiliate links. Read my disclosure policy here.
Do you love to read? Do you love books?
Nothing makes me happier than a big 'ol pile of new books. If you are like me, you will love this giveaway. We are giving away a a bundle of books worth over $120. Please click through the amazon links or the to the publisher's site to find out more about the books that interest you.
From Hachette Books:
Mrs. Perfect by Jane Porter — (read my full review HERE)
Odd Mom Out by Jane Porter introduces us to Marta Zinsser, who moves from Manhattan to an exclusive Seattle-area community. Will she find a way to fit in and still be true to herself?
From Bethany House/Baker Books:
Truffles by the Sea by Julie Carobini features Gaby Flores, a chocolate-loving heroine who is trying to break her habit of dating Mr. Wrong while rebuilding her recently-destroyed flower shop business.
Growing Friendships by Tracy Klehn is a lovely book about friendship. You can find my full review HERE.
From a Distance by Tamera Alexander is is the first book in the Timber Ridge Reflections series, and is not even available until June 1, so you'll get a sneak-peek. It's a historical romance taking place in late 19th century Colorado.
Quiet Moments for a Mother's Heart is a gift-quality devotional book containing 120 devotions which can be read in a rare quick quiet moment.
From HarperCollins:
Gorgeously Green: 8 Simple Steps to an Earth-Friendly Life by Sophie Uliano sorts through all the eco-info out there to help you incorporate green practices into your shopping, eating, and beauty habits.
From Penguin Group:
The Sweet Melissa Baking Book by Melissa Murphy (owner of a Zagat acclaimed bakery in Brooklyn) has recipes ranging from fancy tart to simple homey cookies. If you like to bake (or eat baked goods), you have to click over and just look at this book. . . .
Big Green Purse by Diane MacEachern gives tips on how we can use our spending power to make a difference in the world–kind of an eco-nomics course. She also busts the myth that green always costs more. It's the "green shopping bible" for women who want to know "What can I do?"
Would you like to win this bundle of books worth more than $120? Please leave a comment telling me which book most interests you, and if I draw your name, you'll win them all!
Enter to Win: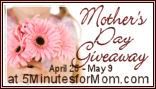 If you would like to win this bundle of books, all the instructions about entering the Mother's Day 2008 Giveaways are included in the Mother's Day 2008 Giveaway post (including the code to put our Mother's Day Giveaway button on your site.)
But here is a quick run through:
Leave a comment on this post to be entered telling me which book most interests you.
Post a link to this contest (it is always nice to let your readers have a chance to win too!) and/or link and post a button to our Mother's Day 2008 Giveaway post. (If you post the button and link to the Mother's Day 2008 Giveaway, you are qualified to enter in all the upcoming Mother's Day 2008 Giveaway contests. And we have two weeks of contests to enter!) Non-bloggers are welcome too – we understand you can't link – but feel free to pass the word on to your friends or write about it on Facebook, Twitter, etc.
(This giveaway is open to US shipping addresses only.)
Good luck!
(Have you checked out the other contests in Mother's Day 2008 Giveaway contest?)