This post may contain affiliate links. Read my disclosure policy here.
Having reaped the benefits of strong friendships with whom I had shared good times and who I had helped get me through bad times, I always knew that I would make the effort to make new friendships when I moved, as I have several times in my adult life. But even without a physical move, there are changes in a woman's life that often invite–or require–us to make new friends such as leaving or reentering the workforce, changing churches, involvement in your children's activities, and many more.
Have you been hoping to find a new friend?
Are you hoping to deepen some relationships this year?
Perhaps you want to learn more ways that you can be there for your friends, or how to enlist help when you need it.
Growing Friendships by Tracy Klehn is an excellent book. Actually, my only criticism about the book is that this is the book that I wanted to write! Tracy Klehn shares personal experiences of her own growing friendships. In each chapter she gives the reader an opportunity to reflect on areas in which she needs to improve regarding her e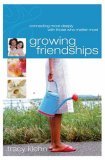 xisting friendships or steps she needs to take to make new ones.
I think that this book could help and inspire every woman.
Some women have many friendships and know that they wouldn't survive without them. They feel like they are good at the skill of friendship. These women will smile and nod in agreement throughout and come away with new ways to make the most of them.
A few women don't feel the need for friendship, or at least they don't feel like they deserve the time that it takes to develop friendships with other women. I would hope that this book would encourage these women by giving real-life of examples of the value that friendships with women add to their lives.
Other women look at the friendships that others seem to have with a bit of jealousy, as if looking in from the outside. This book will motivate them to look at the women around them and bring to mind the efforts that others have made to include them.
There's even a study guide that you can download www.tracyklehn.com that would be a great springboard to deepening your relationship with a few women in your neighborhood or at your church.
We have five copies to give away (they can be shipped to the U.S. or Canada). If you'd like to win, please leave a comment on this post, and check out the New Habits in the New Year guidelines at this main post.
Come back on January 9 to see if you have won. Please be sure that the email address that you provide is one that you check regularly, and also check your spam folder when the winners are announced if you see your name.