This post may contain affiliate links. Read my disclosure policy here.
How is it that I came to like, respect, and understand a super-rich woman who still has a flat stomach and prominent hip bones after having three children? Why did I feel that I could identify with a woman whose biggest dilemma is whether to attend Pilates or Yoga class at the gym? That I might actually befriend this woman who considers buying only one designer outfit for each daughter on their shopping trip to Nordstrom's cutting back?
Taylor Young is Mrs. Perfect. She's the kind of woman who we all love to hate. She's beautiful, thin, rich, and talented. She runs the school and has good kids and a handsome husband. Of course things aren't as good as they appear. When financial disaster hits, does she have what it takes to hold together her family and her marriage?
So back to my question–How did I come to like her? The answer is reading a good novel by a master crafts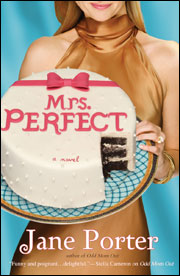 man. Jane Porter's characters are real–imperfect and sometimes a bit over-the-top, but completely relatable. The reader quickly becomes invested in Taylor's life and more interested in her family and friends which will keep her turning page after page following Taylor's life as she struggles and changes and adapts.
I enjoyed this book. It was mostly a light read, but it made me think about myself, my friends, and my hang-ups. I'd give it a very mild PG rating, so those of you who are careful about the authors you read would probably enjoy it too. You can read an excerpt on the author's site. Take some time to explore janeporter.com–there's info about one of her books that is currently filming as a movie starring Heather Locklear, her blog, as well as some interesting biographical info.
We are giving away a copy of Mrs. Perfect (as well as another one of Jane Porter's books) as a part of a huge bundle of books in the Mother's Day Giveaway, so stay tuned (Please note, your comment here does not enter you, you will need to leave a comment on the Bundle of Books post).
The winners of last week's book, The Mother Factor, are
#62 Belinda Abel,
#48 Jean,
#58 Bree.