This post may contain affiliate links. Read my disclosure policy here.
Moms do a lot of printing. There is a lot in our lives that requires printing – photos, schedules, kids' homework assignments, scrapbook pages… the list goes on.
So we need a good printer. Make it an all-in-one printer that saves us money on printing, and we are really good to go!
When I saw the Kodak EasyShare Printers and their low-cost ink refills featured on Celebrity Apprentice, I thought, "Now, that is a product moms can really appreciate!"
At the time, we were working with Kodak on our giveaway of an EasyShare camera. So, I suggested to Kodak that you all would love an All-in-One Printer giveaway for Mother's Day. They agreed and here we are!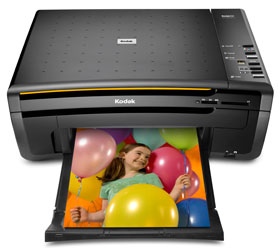 When I received the Kodak ESP 3 All-in-One Printer to review, I was more than excited. Printing that is less expensive sounds really good to me!
Setting up the Kodak ESP 3 All-in-One Printer is easy and intuitive and the manual quickly walks the user through it. (Although, because my old printer used a parallel port, I didn't have any USB printer cables on hand. Since it was 10pm, I had to wait until the next day to buy a USB cable before I could set up the ESP 3.)

Once I got it up and running, I was really impressed with the quality of the prints. I chose a shot with vibrant colors to test the quality of the photo printing and I was shocked with how bright and crisp the photo came out. It was worthy of a scrapbook page for sure!
I love the convenience of having an all-in-one printer that can copy, print and scan. I seem to always need to make copies or scan items. The ESP 3 offers one-touch color copying without a PC. That will be a very handy feature – I won't have to use my fax machine to make copies anymore. And the high definition CIS scanner is capable of scanning several images at once and automatically saving them as separate files – now that is a cool, time saving feature!
The Kodak ESP 3 All-in-One Printer also comes with image enhancement features which can be great for users who don't use photo programs like Photoshop to enahce their shots. (I am addicted to editing my shots in Photoshop, but for a quick alternative, these features are cool.)
The Kodak Perfect Touch Technology analyzes the color and tone in an image to create fewer dark shadows, more vibrant colors, and richer details with red eye reduction and color restoration.
The Facial Retouch Feature is a quick way to reduce the appearance of skin blemishes and enhance facial features. I usually do these kinds of adjustments in Photoshop, but I can see how this technology would be great when a user either doesn't have a photo editing program or just wants to quickly enhance their shot.
The entire line of Kodak All-in-One Printers is very affordable. The Kodak ESP 3 retails for $129.00 and the EasyShare line ranges from $109.99 to $199.99. The black ink refills are $9.99 and the color are just $14.99. That is a whole lot easier to handle than the $30 I was spending for my old printer's refills!
If you and your family need to get a new printer, perhaps hinting for a Kodak All-in-One Printer this Mother's Day might be a good idea. And if you want to try and win one, we have one to give away!

Enter to Win: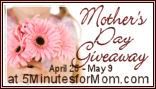 If you want to win a Kodak ESP 3 All-in-One Printer, all the instructions about entering the Mother's Day 2008 Giveaways are included in the Mother's Day 2008 Giveaway post (including the code to put our Mother's Day Giveaway button on your site.)
But here is a quick run through:
Leave a comment on this post to be entered.
Post a link to this contest (it is always nice to let your readers have a chance to win too!) and/or link and post a button to our Mother's Day 2008 Giveaway post. (If you post the button and link to the Mother's Day 2008 Giveaway, you are qualified to enter in all the upcoming Mother's Day 2008 Giveaway contests. And we have two weeks of contests to enter!) Non-bloggers are welcome too – we understand you can't link – but feel free to pass the word on to your friends or write about it on Facebook, Twitter, etc.
(This giveaway is only open to US shipping addresses.)
Good luck! And we will see you soon for our next Mother's Day 2008 Giveaway contest.