This post may contain affiliate links. Read my disclosure policy here.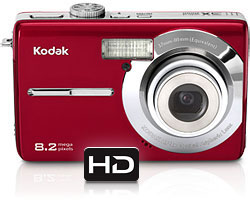 What is sleek, easy to use, and holds everyone you love? Your new Kodak EasyShare M853 Zoom Digital Camera of course!
This Valentines Day, we are celebrating by giving one of you Kodak's 8.2 megapixel EasyShare M853 Zoom Digital Camera in Red Rose.
And – we aren't stopping there either – we are sending four of you on a shopping spree at Kodak Gallery.
This is how the prizes will work:
I had a chance to check out a review model of the Kodak 8.2 megapixel EasyShare M853 Zoom Digital Camera. It is a basic point and shoot camera that performs well for a compact at an affordable price of $149.95. It has great features such as high-resolution 8.2 megapixel image sensor, 3x optical zoom, tons of scene modes to choose from, and Kodak's EasyShare system.
The Kodak M853 would be a good camera for a beginner or for someone looking for a compact, basic point and shoot. I like to have an extra camera to throw into my purse or diaper bag to catch those spontaneous moments when I don't have my DSLR with me and this camera definitely fits for that purpose as well.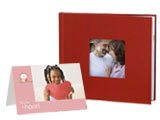 I am so excited about all the fabulous products available at Kodak Gallery. I could go crazy in there!!! It is the perfect place to get ready for Valentine's Day with every kind of photo gift idea you could want. There are photo books, mugs, frames, home decor items, clothing, stickers, games, calendars, ornaments, and more!
And of course there are cards – tons of them! Cards for everything – baby cards, invitation cards, Valentine's cards, Thank-You cards – even Martha Stewart cards.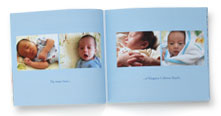 I especially love the photo books! I am in the middle of making one up for Olivia since I am too busy to make her a scrapbook right now. It is such a simple way to make a professional looking book to showcase my favorite photos of her.
And it is all so easy to do – just upload your pictures and get designing. You will have a blast and you will create beautiful gifts and keepsakes! The Gallery even offers you fantastic ideas of ways to incorporate your photos into unique gifts, like making gift tags with stickers, creating a recipe book with your photos and recipes and more. There is so much you can do at the Gallery – I could spend a year in there making things!
Right now Kodak Gallery is offering 20% off all greeting cards that can be made on the site for Valentine's Day! So head over there and get ready for Valentine's day with these beautiful personalized Kodak cards.
But first – don't forget to leave a comment here to enter to win a Kodak's 8.2 megapixel EasyShare M853 Zoom Digital Camera in Red Rose and a $50.00 gift certificate to Kodak Gallery.

We will draw the winner on Friday, February 1st. This contest is only open to US shipping addresses.
Good luck – and Happy Valentine's Day!
This contest is part of the Bloggy Giveaways Carnival. Make sure you stop by Bloggy Giveaways to find more fantastic contest to enter this week.
Thanks so much to Shannon from Rocks In My Dryer and Bloggy Giveaways for hosting this fun carnival.