This post may contain affiliate links. Read my disclosure policy here.
As the baby in my belly messed with my hormones, the one thing that was sure to instantly choke me up was the sight of itsy-bitsy tiny little baby clothes.
What is it about little clothes that are so irresistible?
Of course, there's the excitement of the lovable baby that will wear the clothes… But the tiny clothes in themselves are just so adorable that as an expectant mom it is hard to resist buying more than the sleeping-16-hour-a-day newborn will ever have time to wear.
But as my little Julia nears her 3rd birthday, I have discovered a whole new arena of tiny outfit adoration…
Doll Clothes!
Now you see, I wasted my should-be-doll-playing childhood years trying to copy everything my big brother did. Basically, I was a tom-boy. And not only did I miss out on the joy of dressing up dolls in splendid little clothes, but I caused my twin Janice to lose out too. (Janice followed everything I did, and I followed everything our big brother David did. And so while we loved our Lego, Matchbox cars and soccer balls, I do regret that we never discovered the joy of dolls.)
But now we get another chance. Julia loves dolls. She's not yet three and she already spends hours pretending to feed, burp and rock her toy babies. I'm thrilled that we still have years ahead of us to enjoy dolls and all the adorable doll clothes and little furniture and accessories.
To start off Julia's doll clothes collection, we were thrilled to receive three exquisite Emily-Rose outfits: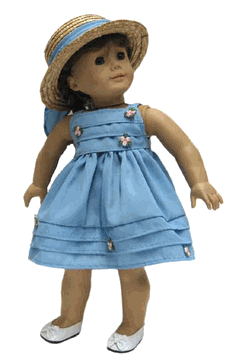 The detail and quality of the clothes astounded me. And each outfit is carefully packaged in a pretty little box.
My first thought was what a brilliant gift to send to a niece or granddaughter who lives in a different town. You would be completely confident that the present would arrive in perfect condition and pristinely packaged.
Emily-Rose offers beautiful and unique, yet affordable doll clothes and accessories for American Girl, Bitty Baby and other 18 inch and 15 inch dolls.
Their store caters especially to little girls (and Moms, Dads, Grandparents or Aunts) who already have an American Girl but struggle to afford the clothing, accessories and furniture. They have a huge variety of product (over 500 outfits), wonderful quality, and great prices.
Lisa Marie, the founder of Emily Rose tells us:
What we hear most from our customers is that they shop with us because of the great variety, quality product, great prices and really attentive and caring customer service. We won't sell any product that we don't personally believe is of a quality that we would accept at that price.
Emily Rose is generously giving one of you 5 Minutes for Mom readers the same three outfits I described above.
The winner will receive the blue dress pictured on the doll above and the two outfits shown below (except with pants for the Brownie outfit).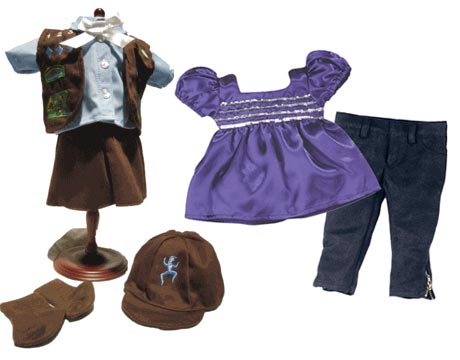 If you have a little girl who would like to dress up her own doll in these fancy threads, leave a comment and let us know.
It would be great if you also Join the Emily Rose Club — it's free to join and they'll send you valuable coupons and special offers.
Enter to Win:
If you want to win, all the instructions about entering the "Two Weeks of Toys" Giveaways are included in the "Two Weeks of Toys" Giveaway post (including the code to put our "Two Weeks of Toys" Giveaway button on your site.)
But here is a quick run through:
Leave a comment on this post to be entered.
Post a link to this contest (it is always nice to let your readers have a chance to win too!) and/or link and post a button to our "Two Weeks of Toys" Giveaway post. (If you post the button and link to the "Two Weeks of Toys" Giveaway, you are qualified to enter in all the upcoming "Two Weeks of Toys" Giveaway contests.) Non-bloggers are welcome too – we understand you can't link – but please pass the word on to your friends.
(This giveaway is open to US shipping addresses only.)
Good luck! And we will see you tomorrow for our next "Two Weeks of Toys" Giveaway contest.