This post may contain affiliate links. Read my disclosure policy here.
Let your tot take a spin on a Wheely Bug® and you'll both be hooked.
These unique little ride-on-toys have been winning awards all over the world.
Winner Best Australian Toy 2000, 2001, 2003, 2005 & 2006
Gold Awards: Right Start Best Toy(UK) 2005, Baby and Toddler(UK) 2005
Silver Tokyo Gift Fair 2006
Baby and Child International Fair, NEC Birmingham — Show Product of the Year, Highly Commended 2004.
Winner Practical Pre-School Awards 2005 Bronze.
Highly Commended Mother& Baby(UK)2005
I just can't believe I had never seen one of these brilliant bugs before.
You'll love that your child is developing essential gross motor skills, and they'll love that they can twist, turn and drive in every direction.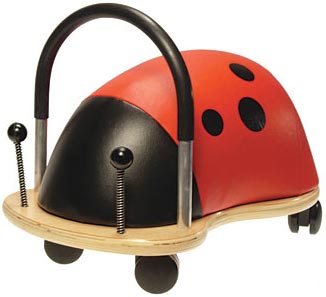 The Wheely Bug® is different than other ride-on-toys because of the multi-directional wheels that let the rider steer backwards, forwards, sideways, and round and round.
So when your toddler is cruising around your kitchen on a Wheely Bug®, instead of getting stuck between the kitchen table and a chair and hollering for you to rescue her, she'll just wheel herself out sideways.
I can't even count the number of times I had to pick up Julia's foot-to-floor car to point her in a different direction. I'm looking forward to an easier ride for Sophia and Olivia.
Wheely Bug® bodies have a padded layer of sponge which is covered with a tough layer of polyurethane leatheroid and can be easily wiped clean. They are great to use on smooth level floors and ideal for indoors.

They have now been in use in over 1,000 child care centres for more than ten years. The toughest test field for toys known to human kind.
The Wheely Bugs® come in three different styles and two sizes. The small size is designed for toddlers 1.5 years and older. The large size allows for riders 3 years and up.

One lucky reader will win her choice in size and style — either a Wheely Bug, Bee or Cow.
Leave a comment and tell us which is your favorite. (I know it's hard to choose… they're all so cute… but I really love the ladybug.)
Enter to Win:
If you want to win, all the instructions about entering the "Two Weeks of Toys" Giveaways are included in the "Two Weeks of Toys" Giveaway post (including the code to put our "Two Weeks of Toys" Giveaway button on your site.)
But here is a quick run through:
Leave a comment on this post to be entered.
Post a link to this contest (it is always nice to let your readers have a chance to win too!) and/or link and post a button to our "Two Weeks of Toys" Giveaway post. (If you post the button and link to the "Two Weeks of Toys" Giveaway, you are qualified to enter in all the upcoming "Two Weeks of Toys" Giveaway contests.) Non-bloggers are welcome too – we understand you can't link – but please pass the word on to your friends.
(This giveaway is open to both US and Canadian shipping addresses.)
Good luck! And we will see you tomorrow for our next "Two Weeks of Toys" Giveaway contest.