This post may contain affiliate links. Read my disclosure policy here.
I am thirty-four and I still love Easy Bake Ovens!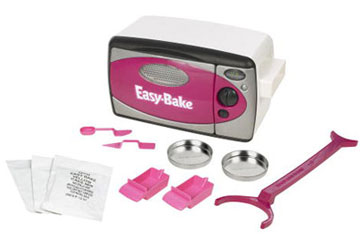 Hasbro is treating us again! For our sixth contest in our "Two Weeks of Toys" Giveaway Event we have the iconic Easy Bake Oven.
This year is actually the 45th anniversary of the Easy Bake Oven. If you hop over to the Easy Bake site, you can see the history, including photos showing the evolution of the Easy Bake Oven over the years. It is so fun to see them all!
When I was a kid, we had the orange one from the very early 80's. Oh how I adored our Easy Bake Oven. We seemed to rarely have any of the recipe packs; we baked more sliced apples than Easy Bake cake mixes. But we never grew tired of it!

Did you have an Easy Bake Oven? What are your early memories of Easy Bake.
I thought having a son (and the most testosterone-driven boy possible at that!) I would be skipping the Easy Bake Oven stage with him. But as a creative little monkey who loves to cook up the most bizarre "recipes," he is thrilled to spend time in the kitchen. When I mentioned that we would be reviewing Easy Bake – he begged to test it! LOL
When I brought it home, I told him to close his eyes because I had a surprise for him. When he saw it, he screamed with as much excitement as if I had just given him a video game. Now his excitement probably has to do with the fact that he is imagining eating all the cakes and cookies he wants to make, but it is still super cute!
It is such a riot going from Nerf Blasters and everything "boy" with Jackson, to seeing him put on an apron, grab some pink utensils and whip up an Easy Bake cake! That kid continues to surprise me – and make me laugh out loud.
The latest version of the Easy Bake Oven is pretty much just the same as I remembered it. Sure, it now looks like a microwave, but it all seems to work just like it did when I was a kid. I love those little round tin cake pans! (Jackson was disappointed when he realized his "cakes" were going to be that small. I guess he figured that he would be making full size cakes! LOL)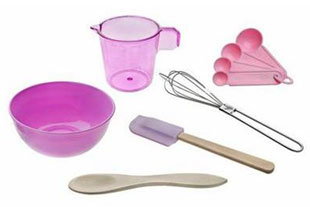 If you want to win an Easy Bake Oven for a little chef (girl or boy!) you know, leave a comment to win. (If you have some Easy Bake memories to share, please do!)
We have one Easy Bake Oven to giveaway and FORTY FIVE Mix and Measure kits for 45 runner ups. (In honor of Easy Bake's 45th anniversary.)
Enter to Win:
If you want to win, all the instructions about entering the "Two Weeks of Toys" Giveaways are included in the "Two Weeks of Toys" Giveaway post (including the code to put our "Two Weeks of Toys" Giveaway button on your site.)
But here is a quick run through:
Leave a comment on this post to be entered.
Post a link to this contest (it is always nice to let your readers have a chance to win too!) and/or link and post a button to our "Two Weeks of Toys" Giveaway post. (If you post the button and link to the "Two Weeks of Toys" Giveaway, you are qualified to enter in all the upcoming "Two Weeks of Toys" Giveaway contests. And we have two weeks of contests to come!) Non-bloggers are welcome too – we understand you can't link – but feel free to pass the word on to your friends.
(This giveaway is open to both US and Canadian shipping addresses.)
Good luck! And we will see you tomorrow for our next "Two Weeks of Toys" Giveaway contest.