This post may contain affiliate links. Read my disclosure policy here.
Hey Ladies, this is Amber here.
I have a 2-year-old and a 5-year-old. I spend my days at home with them, for the most part. This means that my days are hectic. I don't accomplish much that I set out to do, but I still do a lot. I wipe, hug, fetch, clean, teach and cut the crusts off of PB&J. It's the life I signed up for when I became a mom, and I love it. Parenting is hard, but it is also rewarding in a way that no other job in the world can be. I would do it again in a heartbeat.
As much as I love my life, sometimes it feels out of balance. I haven't had a haircut in six months, and I haven't seen a grown-up movie in the movie theater in even longer. I'm pretty sure my friends without kids have given up on me altogether. I am so busy being mom that I don't take the time to also be me.
Balance sounds lovely, but it can also be loaded. I already have a to-do list a mile long. Adding 'live a balanced life' to that list feels sort of like piling more work on to an already full plate. I wonder if it even really counts as 'balance' if I stop spending time with my husband so that I can spend time with myself. I don't think so.
I've been thinking about this a lot lately. The end of one year and the beginning of another makes me examine my life. Also, the holidays are a very busy time for me, so I feel more out of balance than usual at this time of year. Plus, I am creating an online course about living with intention that is directed towards moms, which means that I'm talking to other people about balance.
As I think about balance and write about balance, a few things stand out for me. One is that balance shouldn't be an obligation. If we haven't spent time reading in a coffee shop for a while, there may be a reason for that. We don't need to feel guilty, or as if we must strive for some ideal of balance.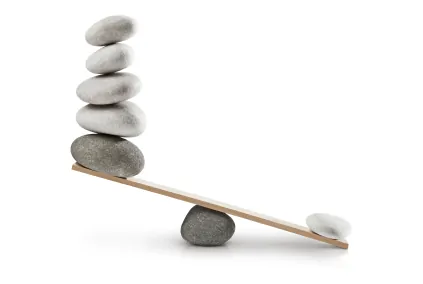 I've also realized that there are times in our lives that just aren't going to be all that balanced. The time that you spend at home with two little kids is one of those less-balanced times. It's not going to last forever. I would rather spend this time enjoying my children, than worrying about how long it's been since I saw a grown-up movie in the theater.
Most important of all, though, my definition of balance and your definition of balance may not be the same. That's as it should be. We are all the best experts on our own families. If you need to get out of the house to see a movie to save your sanity, find a way to do it. If you would rather spend the day at the park with your kids, that's fine, too. We can each decide what balance looks like for ourselves.
Which brings me to my question. What is your definition of balance? What keeps your life as a mom manageable? I'd love to hear!
Written by 5 Minutes for Mom Contributing Editor, Amber Strocel. Check out her blog at Strocel.com, and her online course on living with intention at Crafting my Life.