This post may contain affiliate links. Read my disclosure policy here.

As the weather turns colder and colder I find myself craving something warm to drink. The problem is that I'm not much of a coffee drinker. As in my coffee is usually one part coffee and two or three parts cream and sugar. Not so good on the waist-line! So, I tend to drink hot tea instead.
Have you ever noticed that, while coffee is pretty simple to take on the go, tea is a bit more cumbersome. Especially loose leaf tea! Let's face it, most days I am in too big of a hurry to wait for my tea to sit and steep before leaving the house. It's all more work than I am usually willing to put forth.
If you're in the same situation as me, then you might want to consider putting the Thermal Travel Tea Glass from Lavish & Lime on your Holiday wish list!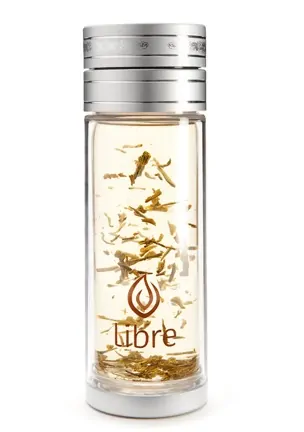 The Thermal Travel Tea Glass not only lets you take your tea with you on the go, but you actually get to take your loose leaf tea on the go! The built-in stainless steel mesh filter keeps the tea leaves in the tea and out of your mouth. That means that you can toss those tea leaves into the hot water and let it steep as you're running out the door with tea in hand! The filter is also easy to remove for cleaning or adding or emptying loose leaf tea. And, don't throw your tea bags out quite yet because the Tea Glass also works well with tea bags!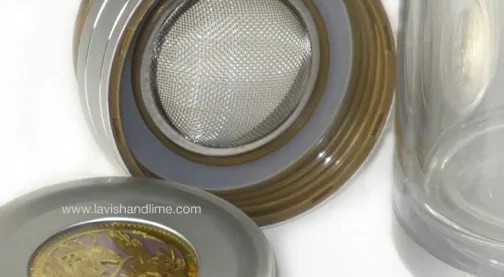 The double walled Tea Glass is both durable and safe, making it perfect for travels. The inner glass wall is BPA-free, while the exterior is made of a durable polycarbonate plastic to prevent breakage.
I love that the Thermal Travel Tea Glass is also the perfect size for me to slide into my purse and take it with me to my favorite coffee shops. Not only is it a stylish bottle to look at but it also means I don't need to use a disposable cup from the coffee shop!!!
The Thermal Travel Tea Glass is priced at just $24, making it a very affordable gift for the tea lover on your shopping list. I'm planning on picking up another one for my father-in-law (my fellow tea-loving family member) and pairing it with some of his favorite loose leaf tea for Christmas!
If you're looking for some other great eco-friendly gifts for the holidays, check out Lavish & Lime's extensive list of on-the-go, living, body, and kid's products and check them out on Facebook and Twitter (@LavishAndLime) . They truly have something for everyone! Like a natural hot water bottle without the water, recycled skateboard cufflinks, and golf tees made of wheat!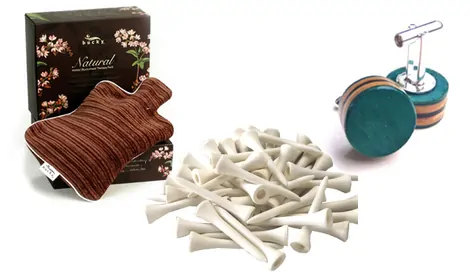 To make that Holiday shopping a little easier, we are giving one lucky reader a $25 gift certificate to Lavish & Lime! Use it to pick up a gift for a friend, co-worker, or your child's teacher. Or, keep it your little secret and get yourself something! To enter, just leave us a comment below.
This giveaway is part of our Christmas Giveaway 2010 event. If you haven't already, please be sure to visit our main Christmas Giveaway 2010 post to review our giveaway rules and to find out how to earn additional entries.
This giveaway is open to US and Canadian shipping addresses and closes on November 30th. Please see our site's terms and conditions for our complete contest rules.
Lavish & Lime provided me with a Thermal Travel Tea Glass for review purposes and is generously providing the gift card for this give away and another to our Under The Tree 2010 program!