This post may contain affiliate links. Read my disclosure policy here.

I'll be the first to admit (and my husband will surely be the second) that I cannot carry a tune. At all. But that doesn't stop me from busting out some songs, often ones that I make up, around the house or rocking out to my favorite songs in the car! Unfortunately and thankfully my girls follow right in my footsteps — they are often out of tune but absolutely love to sing!
So, what better toy to find its way into our house this Holiday Season than The Sing-a-ma-jigs!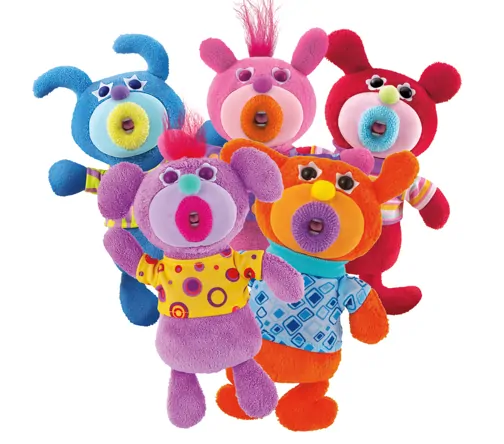 First impressions…well, The Sing-a-ma-jigs! are one of those toys that just struck me as kind of kooky looking. Each character is a bright color, is wearing a colorful little t-shirt, and has a look on their face that is neither happy nor grumpy. However, after just a few minutes of playing with one of The Sing-a-ma-jigs!, it's so easy to see how kids are falling in love with them!
With a little squeeze on their bellies, The Sing-a-ma-jigs! open their mouths wide for each note, showing off the cutest little teeth I've ever seen on a plush toy! Each character chatters and sings their own song. But, what sets The Sing-a-ma-jigs! apart from other musical toys is that, when you get different Sing-a-ma-jigs together, they harmonize together!!!

The Sing-a-ma-jigs! YouTube channel for more fun videos and to upload your own Sing-a-ma-jigs video!
As their motto says, "They Love Singing Together," and this is evident when you put The Sing-a-ma-jigs! together. They sing in perfect harmony each and every time! My daughters love getting their Sing-a-ma-jigs! together for living room concerts! It's a fun way for them to play together and, maybe with time, we can work on their own harmonies!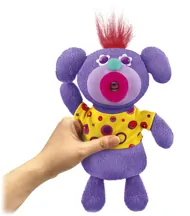 The Sing-a-ma-jigs! are currently available from MATTEL in a variety of different colors (each with their own song), with additional characters to follow throughout the Holiday Season. And, with The Sing-a-ma-jigs! retailing at just $13 each (available at Toys"R"Us, Target, Walmart, Amazon.com and Kmart), these are going to be great holiday gifts or stocking stuffers!!!
You can view the complete line of The Sing-a-ma-jigs! at thesingamajigs.com and follow them on Twitter (@singamajigs).
We are excited to be giving away TWO Sing-a-ma-jigs to one of our lucky readers just in time to sneak into the stockings of your little ones! The characters sent to the winner will be randomly selected, but don't worry, they are all wonderful! To enter, simply leave a comment below.
This giveaway is part of our Christmas Giveaway 2010 event. If you haven't already, please be sure to visit our main Christmas Giveaway 2010 post to review our giveaway rules and to find out how to earn additional entries.
This giveaway is open to US shipping addresses and closes on December 4th. Please see our site's terms and conditions for our complete contest rules.
Not only is Mattel providing The Sing-a-ma-jigs! for this giveaway and for this review, but they are also generously donating two Sing-a-ma-jigs to our Under The Tree 2010 program!