This post may contain affiliate links. Read my disclosure policy here.
Earlier this week I posted a review of a novel about a woman who went back to work after taking a few years off to stay home with her son. I know that is a situation that many of us face, whether we go back to work because of financial necessity, a desire to keep up our career skills, personal satisfaction or a combination of these.
In Baby Steps: The Path from Motherhood to Career, Diane Lang has addressed all these key areas in an understanding and gracious way. Reading the book is like receiving advice from a wise and gentle friend. In writing the book, Diane Lang interviewed many working moms. One of the things that she realized was that by definition,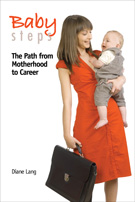 a working mom (or a new mom contemplating returning to work) is short on time. Because of this, she intentionally kept the book short. As a child I always selected the longest books possible so that I got the biggest bang for my buck, but as an adult, I agree with her philosophy. In this 56-page book, every word counts.
If you are still weighing your options, this book will help you decide if indeed it is time for you to go back to work. If it is, Ms. Lang gives several options that you might not have considered that have worked for some of the women who she interviewed. She covers the resume, the interview, and that transition period from home to work that is full of mixed emotions.
The author has donated two copies. If you'd like to win, please leave a comment. We will post the winners on Thursday, January 24. You can buy a copy of the book through Bent Tree Press.