This post may contain affiliate links. Read my disclosure policy here.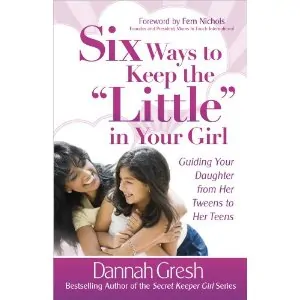 If you are the mother of a daughter, I imagine that you got to this title title as quickly as your finger could click. Whether she is four or fourteen, you have probably either wrestled with her about wanting to grow up too fast or you are waiting for the change from young child to teen wannabe that is occurring earlier and earlier.
Six Ways to Keep the "Little" in Your Girl by Dannah Gresh is a refreshing and necessary resource for moms of little girls. And lest you think that your daughter is "too young" to start worrying about issues such as screen time, media influence, clothes, sexuality and more, she's probably not.
In the beginning of the book, Gresh explains why the ages between 6 and 11 are the perfect time to intentionally tackle these issues that will be of ultimate importance as they head into their teen years and young adulthood.
Even though my daughter is 12 and just outside that ideal window for sharing values, Gresh's advice and
wisdom inspired me not to grow weary of well-doing.
In order to effectively communicate with our daughters (that is, to talk so that they will listen), we have to be connected moms. Gresh shares examples of conversations she and her daughter have had, and ways that she strives to connect with her kids.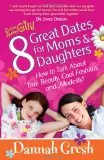 In 8 Great Dates for Moms and Daughters: How to Talk about True Beauty, Cool Fashion, and Modesty Gresh makes intentional bonding easy. She takes care of the planning, giving ideas for a place/activity to use to connect, and tells exactly how to use the activities as a springboard into those important conversations.
Gresh writes from a Christian perspective and does use scripture to back up her "whys," but she also quotes women who share her beliefs who do not come from a Christian background. I think that this book would be useful for any mom who wants strategies to connect with her daughter and protect her from the dangers of growing up too fast.
I have a copy of Six Ways to Keep the "Little" in Your Girl and 8 Great Dates for Moms and Daughters to give to one of you (U.S. shipping addresses only).
Just leave a comment here if you'd like to win. We'll announce the winner right here on November 1.
Also, check out our review and giveaway of Little Girls Can Be Mean.
The winner of Jill Kelly's memoir Without a Word: How a Boy's Unspoken Love Changed Everything is # 6 Shawnee.
Our giveaway of 5 Dog books is still open for another week, so head on over to enter.
Thanks to Harvest House for the review copies and sponsoring this giveaway.