This post may contain affiliate links. Read my disclosure policy here.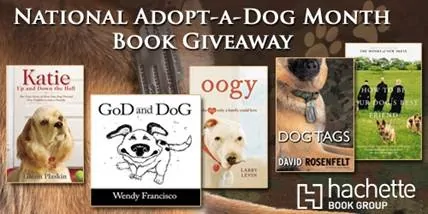 Did you know that October is Adopt-a-Dog month? Me either. However, I can say that I'm a big fan of adopted dogs. We've had two. Our first one had some issues, but we loved her. Grace was that that dog before kids who IS your kid, so she made us a family. We've had Shadow for about ten years now. You'd never believe that she's that old, and everyone agrees that she's the best dog ever.
We are definitely fans. If you are looking for a pet, check out your local shelters.
Hachette Publishers always puts together great themed giveaways, and this is no exception:

Katie Up and Down the Hall By Glenn Plaskin
Oogy By Larry Levin
GoD and DoG By Wendy Francisco

Dog Tags By David Rosenfelt

How to Be Your Dog's Best Friend By The Monks of New Skete
Click through the links to see more about each book at Hachette's site, including excerpts, author info and more. You can buy these books in any store or at amazon.com. Wouldn't some of them make great gifts for the dog lovers in your life?

Please leave a comment below if you'd like to win. One winner (U.S. and Canadian addresses only) will be announced on 10/25 here in our 5 Minutes for Books column.

The giveaway of Jill Kelly's book about her son's illness and her marriage and her faith is still open for another week: Without a Word: How a Boy's Unspoken Love Changed Everything
The quick giveaway for Laura Linney's new play on Broadway Time Stands Still is #2 Gina.