This post may contain affiliate links. Read my disclosure policy here.
It was a perfect day in New York City. It was sunny and clear, but not hot at all. I was excited to be in the city for the day to see not one, but two, shows (I'll have another review and giveaway for Lombardi next week).
The first show on the agenda was a matinee performance of Time Stands Still. Even though I generally prefer musicals to plays, I was looking forward to this one because the subject matter seemed interesting and relevant and the cast is incredible.
As for the plot, read the summary:
Time Stands Still follows Sarah and James, a photojournalist and a foreign correspondent trying to find happiness in a world that seems to have gone crazy. Theirs is a partnership based on telling the toughest stories, and together, making a difference. But when their own story takes a sudden turn, the adventurous couple confronts the prospect of a more conventional life…and everything changes—in a flash.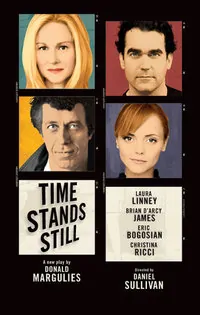 Laura Linney plays Sarah. If you watch any TV or movies, you will be familiar with Laura Linney's work — from Frasier to her new Showtime series The Big C to Love Actually on the big screen. She was phenomenal as the woman nearing-middle-age, who has just had a near-death experience as a photojournalist on an assignment in a war-torn region. She's evaluating what she wants from her future.
Brian D'Arcy James plays James, Sarah's partner in life and business. He's a writer and has traveled the world with Sarah telling the stories of the down and out. A horrific experience has left him questioning his ability to return to that line of work. He recently starred as Shrek on Broadway (and this is a VERY different role in which he shined).
Eric Bogosian is a stage and screen veteran, doing a long run as Captain Danny Ross in Law & Order: CI. He plays Sarah and James' friend and editor Richard. He's the voice of reason to Sarah and James' cynicism and lofty artistic hopes.

Christina Ricci stole the show in my mind. She plays Richard's young girlfriend Mandy, and her youth and optimism is a perfect foil for the uncertainty that the other characters are feeling.
The FAQ on the site poses this interesting (and rather subjective!) question:
I'm not familiar with the plays of Donald Margulies. Will I like TIME STANDS STILL?

Absolutely. Women love it; men love it. It's both funny and serious and focuses on relationships in a state of flux. It's a love story.
I will say that I did absolutely love Time Stands Still. The Cort theater was a great place to stage it. The same setting is used throughout, and even though it's a fairly small stage, much is accomplished on it. I was on the fourth row, but the theater is small enough that I think that most seats would be good. The intimacy of the theater is needed as the actors use facial expressions and even quiet tears as they deliver their lines.
As a content note, there is strong language used fairly frequently, so if that would turn you off, then you might not absolutely love it.
Otherwise if you are looking for a smart, relevant, wonderfully-acted show to see, I can definitely recommend Time Stands Still.
I have a set of two tickets to give to one of you who are Broadway-bound! The voucher is good for a pair of tickets, through November 5, for shows at the following times: Tuesday 7pm, Wednesday at 2pm or 8pm, Thursday 8pm. You will be sent a voucher that you will fax in with your request. You'll receive a confirmation via fax.
This is going to be a quick turnaround, because I want the winner to have as many weeks as possible to use the vouchers.
It's not a requirement for entry, but if you want to see more Broadway giveaways, let your NY area friends know about this giveaway. Tweet it, post it on your wall, or email your friends!
I will announce the winner in the 5 Minutes for Books column here at 5 Minutes for Mom on Monday October 11. Then the winner can request tickets for October 14 – November 4. If you are available those days, leave a comment to enter to see this wonderful play!
Disclosure: Original post from 5 Minutes for Mom contributor Jennifer Donovan. I received comp tickets to see the show.