This post may contain affiliate links. Read my disclosure policy here.
Here's your chance to really have Santa come to town…
If we draw your name, you'll win an amazing assortment of infant-to-preschool toys from the award winning Parents® Magazine toy line.

I bet almost every mom in America recognizes the Parents® Magazine brand. The magazine's cover babies smile at you in the grocery check-out line and keep you company as you wait your turn at the pediatrician's office.
But did you realize that Parents® Magazine brand is also behind an innovative toy collection that has won over 40 awards?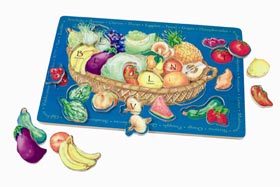 Once you've watched your little ones play with these toys, you'll understand why they've won so many awards.
The philosophy behind Parents® Magazine toys is "When the toy does less, the child does more." Their toys will engage your child and keep them playing for hours. You'll find they reach for their Parents® toys over and over again.
It is clear at our house that the Parents® toys are amongst Julia's favorites. The Pop Beads alone have had Julia busy creating and playing for an unprecedented number of hours.
Almost every day for the last month she's asked to play with her beads. At two and a half years old, she's still technically too young for the toy as it is designed for girls over 4 years of age. But since she never puts toys in her mouth, I decided to let her play with the beads while supervised. We play together making necklaces, bracelets and 'skipping ropes' or whatever else Julia decides her beads have become.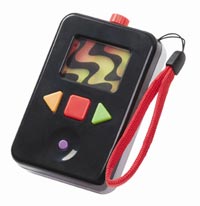 The wooden puzzles are the most beautiful puzzles in our playroom and the pretend MP3 player is such a treat as it soothes us all with classical music.
My favorite item is the Mom & Baby Fitness DVD which guides me and Sophia through a fantastic exercise routine including a wonderful time of baby yoga.
The prize pack we're giving away includes toys for a range of ages from baby to toddler to preschooler as well as the Mom & Baby Fitness DVD and three different CDs.
I wish Santa could drop off one of these prize packs for each of you… but the great news is that even if you don't win the whole bag of loot, these toys are well priced and you still have time to get them under your tree.
Here's a complete list of all the goodies in the prize pack:
Mom & Baby Fitness DVD
Rockin Sing-Alongs CD
Now I Know My ABC's CD
Sleep Sounds for Mom CD
Garden Counting 1-5 Puzzle
Fruits & Vegetables A-Z
My MP3: Classical Music
Bee Bop Band
Pop Beads
Water Works
Bristle Blocks
Rev & Roll Bus
Petite Painter
If you want to win this prize, simply follow these two steps:
Publish a post on your own blog linking back to this giveaway post and also linking to http://www.parents.com.
Leave a comment on this post.
If you don't have a blog, we understand you can't link back, but then please spread the word amongst your friends.
We are sorry to say we must limit shipping to US addresses. So Canadians, if you live close enough to the border to pick your prize on the US side, then you can still enter.
We'll announce the winner on the evening of Sunday, December 9th. Please remember to check back then to see if you won and check your email (including your junk mail folder). If you're the winner, you'll want to claim your prize right away so that it can be shipped to you in time for Christmas.
Recognized as industry leaders, Parents® toys have garnered over 40 awards, including an Oppenheim Toy Portfolio Gold Seal, several Dr. Toy Awards, the Parents' Choice Award, the National Parenting Publications Award (NAPPA), the National Parenting Center Seal of Approval, and nine awards from AblePlay, a not-for-profit organization that reviews toys and products beneficial for special needs children.