This post may contain affiliate links. Read my disclosure policy here.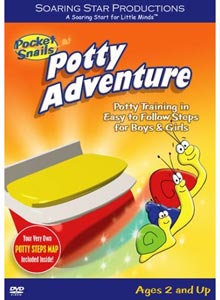 Gordon, Dale and Buttons aren't the type of snails you catch meddling in your garden eating up your plants.
They are the Pocket Snails and they are on a mission to teach tots all about the adventures of growing up… including Potty Training!
These friendly little cartoon snails are the stars of an award winning educational animated series for 2 to 5 year olds.
Their newest title, Pocket Snails Potty Adventure, gives you a whole new way to help your toddler tackle potty training. The singing and dancing Pocket Snails help their friend Jake's little sister Wendy learn the steps of using a potty.
Pocket Snails® is a new concept in children's educational media. Our titles are designed to elevate the learning experience of preschool children by using a creative range of learning techniques such as:

* clever use of repetition
* vibrant color
* original upbeat and child-friendly music
* abundant use of audio / visual synchronization
* uncluttered learning environment
And I can tell you of one two year old who instantly fell in love with the Pocket Snails.
My little girl Julia is thrilled to have the help of Gordon, Dale and Buttons and the inspiration of Wendy as she works on mastering her potty skills.
She absolutely loved the show from the first moment it started and wanted to watch it over and over. When she goes to the potty now, we congratulate her and say, "Great job. You used the potty just like Wendy!" and she beams with pride and repeats, "Like Wendy!"
If you have a child who's about to embark on the path to potty training and you'd like the Pocket Snails to help out, leave a comment and let us know.
We have 3 copies of Pocket Snails Potty Adventure to give away.
We'll announce the winners on Friday, December 7th.
(This contest is open to US shipping addresses only.)