This post may contain affiliate links. Read my disclosure policy here.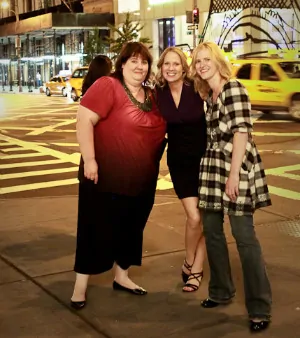 There was something different this year at BlogHer 2010…
And it was happening next door, down the street and a 20 minute taxi ride away…
Yes… countless Private Parties and brand sponsored Off-Site Events!!!
Janice and I went to several of these events and, we admit, we loved them. It was such a treat to get outside the hotel and meet up with blogging and PR friends in smaller settings.
On the flip side we missed out on lots of what was happening back at the hotel at the actual conference. Also, since some of the events took time to walk to or take a cab it was hard to hop from one party to another and see as many people as we'd want to.
But… some of the most fun we had was walking the streets of NY going from one event to another. The photo above is off the hilarious walk back from the Hallmark event. I'm laughing and posing with Robyn from Robyn's Online World and Louise from Mom Start. That stroll home was one of the highlights of my trip.
In the last hours of BlogHer 2010, during the CheeseburHer party, I asked around to see how other bloggers felt about these events.
What About You?
Were you at BlogHer? Did you go to any off-site events? What did you think?
Do you like the idea of Private Parties and Off-Site Events at a blogging conference?

Thanks to Our Sponsors

Thanks again to Kmart Design for helping us bring BlogHer home to you. We still have a ton of fun videos coming to you, so make sure you watch our feed.

Written by 5 Minutes for Mom co-founder Susan.
You get our feed, right?