This post may contain affiliate links. Read my disclosure policy here.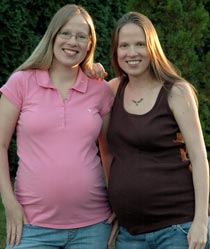 Welcome to the Party!
Pamela, a mom-entrepreneur who owns a great store called Happy Panda, graciously offered to throw us a "Cyber Baby Shower".
As many of you know, Janice's baby Olivia didn't want to miss the fun, so she made her world debut early. Olivia was due to arrive on Oct 9th, four days before her cousin Sophia (Susan's baby) is expected, but Olivia couldn't wait that long. She fled her watery home on September 28th at 1:45am.
The above photo was taken almost two weeks ago while Janice and I were both still pregnant. Now I (Susan) am pregnant all by myself…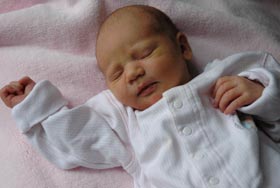 So Olivia is here to celebrate her own baby shower. Sophia is still waiting quietly inside me and will have to wait a little longer before she sees all her fantastic gifts.
Okay, let's start the party…
Here's what we're going to do:
First, we'll play a few shower games that you can have fun with on your own blog and try to win some prizes. We'll suggest some questions that you can run with on your blog to create a fun party post. After you've written your post, you can sign the Mr. Linky at the bottom of this post so that others can come by and visit your party post.
Second, we'll take a look at all the adorable gifts we received. We are so incredibly thankful to have received such beautiful gifts from some of the best companies online.
Third, you can leave a comment on this post to enter yourself in the draw for the rest of the prizes. Prizes will be announced October 5th.
Fourth, you can cruise through the Mr. Linky and visit the other blog parties and meet some new friends and have fun!
Okay… let's have some fun with Shower Games!
Here's the deal… On your own blog, create a "Cyber Shower Party Post" and then include as many responses to the following questions as you'd like.
The first couple include posting photos of yourself and these are certainly optional. BUT, there is big motivation as you can win the top pick of all the prizes. The third question also puts you in the running for third pick of prizes. Then the other questions are all just for fun and you can answer whichever ones you think your readers want to hear about.
The rest of the prizes will be handed out randomly through the comments.
So, to clarify… We will go through the Mr. Linky list of blog party posts and select winners for
1. The most sympathy-inspiring delivery photo.
2. The best (perhaps biggest) baby bump.
3. The most remarkable, interesting or brutal delivery story.
In your post, if you entered any of those submissions, also include (in the text of your post) your top three picks for prizes. Then if we choose your submission, we'll give you your top pick prize.
Then, we will randomly draw numbers for the rest of the prizes. If you want to be entered in the draw for prizes, include a COMMENT on this post and please include some of your top choices for prizes. So, for example, if we pick comment #20, and that is your comment, we will check to see which of your preferred prizes is still available. Then we'll assign that prize to you and remove it from the prize pot. And we'll continue drawing random numbers and handing out prizes until the prizes are all gone. You can enter as many or as few preferred prizes as you wish… ie. you could order all 37 prizes or just a few.
Click here to see the list of PRIZES!!!
Does that make sense?
Okay… let's get started…
Do you want FIRST PICK of all the prizes?
Let's see who has got the most sympathy-inspiring photo of themselves during or immediately following birthing one of their children.
I'm including a photo I took of Janice the other night as she delivered Olivia. (Since I, Susan, am the one typing this post as Janice snuggles her little baby, I have the power to insert a photo of her and not one of me… ha ha ha… evil cackle. Besides she's the one who got to get her pain over with first. Plus, I don't have a photo of me birthing Julia handy… good excuse, hey?)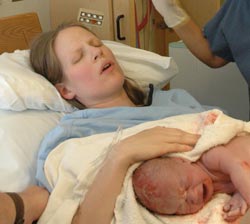 This photo is the very instant Olivia has been pulled from the womb and placed on Janice's belly. Olivia's umbilical cord has yet to be cut.
Look at that pain and exhaustion… oh my goodness… it makes me dread my upcoming delivery of Sophia. But it's amazing how quickly we forget all that pain once our precious bundle is with us.
Now it's your turn… On your own blog, in your "Cyber Shower Party Post" include a photo of you suffering the unbelievable pain of delivery.
Our hostess, Pamela from Happy Panda, will look at all the photos and choose who has the most sympathy inspiring image.
If you win, you get to have your FIRST PICK from all the prizes!!!
Now for your chance for SECOND PICK from all the prizes!!!
Let's see your baby bump photos. Include on your blog a photo of you showing off your pregnant belly. We'll pick the best baby bump photo and award that mom the second pick from the prizes.
And for your chance for THIRD PICK from all the prizes…
Tell us your baby delivery story. On your blog, include the story of birthing one or more of your children. Maybe it was funny, interesting in some way, heartwarming or just downright brutal… just tell it like it was.
Our judge Pamela will select the most remarkable story and award that mom the third pick of prizes.
And here are some more questions that you can answer on your blog:
Pick a few of the gifts described below and tell your readers about them. For example, you could choose three gifts you'd never seen before. Or select three gifts that you wish you had received at your shower.
Tell us your favorite baby name for a boy and a girl. (We've already named Olivia and Sophia, but it's always fun to hear favorite names.)
Post a photo of yourself as a newborn or as a child.
Post photos of your children as newborns.
Tell us your favorite nursery rhyme and/or children's book.
What was the best/worst baby shower gift you received?
What did you like the most/least about being pregnant?
Look At All These Amazing Gifts!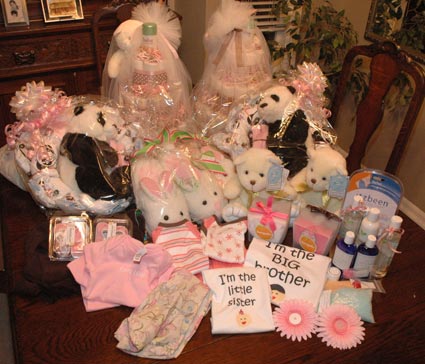 Above is a sampling of some of the beautiful gifts we've been given. We tried to get as many as we could into the photo, but our photo taking time was cut short. Janice had to quickly snap the photo as she ran off to the hospital.
So let's dig in…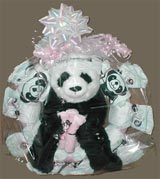 Let's first look at this adorable shower wreath given to us by our wonderful hostess Pamela from Happy Panda.
This beautiful wreath contains one 3-6 month panda t-shirt, one 3-6 month panda one piece with matching hat and an infant safe panda bear holding three bundled wash clothes.
Happy Panda is the brand for bigger babies.
Pamela Kramer is the brilliant work-at-home mom behind Happy Panda. After having two babies who grew so fast they never fit the standard baby sized clothing, she decided to turn this challenge into a fantastic business.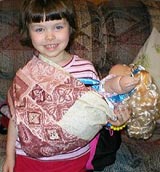 Our good friend Jennifer at All Natural Mommies sent Julia and Jackson the most adorable doll slings. Here's a photo taken from Jennifer's site showing another girl holding her doll sling. I don't yet have photos of Julia and Jackson with their slings.
Jackson has already tried his on and is convinced he'll soon graduate from carrying stuffed animals in his sling to actually carrying Olivia. Yikes!
I can't wait to see Julia copy mommy and carry around her dolls in her own sling. It's going to be the cutest thing ever!
Allizon.com is about Simplicity for Busy Mothers.
Allison Velazquez is a single mother and Mompreneur. She founded Allizon.com as a place for busy moms where they "can share their problems, solutions & ideas" and also shop for that special something to make themselves feel pampered.
The Moms Revitalizing Basket that Allison sent us is the ideal gift to send to any woman on any occasion. Allison also sent us two darling little baby bracelets. The first tiny treasure is a made of Pink Fresh Water Pearls and has a cute little Butterfly Charm. The second is her Baby Heart Charm Bracelet which is made of jade, fresh water pearls, and a heart Charm.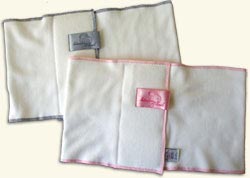 Belmama & Cherub is home to the Shower Hug.
Ane is the inventive mom behind the Shower Hug. She created the Shower Hug after she had her first baby. Ane says, "I made it of the softest, most luxurious knit terry velor to provide expectant and new moms with gentle bust line support and to soothe sensitive nipples and breasts associated with pregnancy and breastfeeding. Consider it a hug from this mom to you!"
Thanks to Blessed Baby, Olivia and Sophia will be proudly declaring themselves as "Faith Babies" with these heavenly onesies.
Blessed Baby is a unique mom-owned business that offers faith inspired products ranging from bibs and blankets to baby onesies and t-shirts.
With phrases such as "Love is Patient", "Faith Baby" and "Blessed Baby", your baby can praise God before she can form words.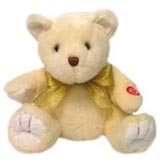 Christian Toys for Boys and Girls sent Sophia and Olivia each one of their lovable Jesus Loves Me Bears. This soft and cuddly bear sweetly sings "Jesus Loves Me" to your child.
Karla's site is called Christian Toys for Boys and Girls and she works with a business called My Blessed Toys whose goal is to empower our children for Christ through play.
They also have wonderful Messengers of Faith dolls and other inspiring toys for your children.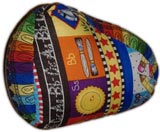 Here's a helpful new product idea from another smart thinking mom. It's called a Cushie Pushie and "it is a pillow designed to help nursing mothers gain the correct breast position for easier breastfeeding."
I've never seen anything like this little pillow before. It is only 5 1/4″ wide X 7″ high X 3″ deep. "The unique triangular shape allows the breast to be pushed up while allowing your arm to provide additional support to help keep it in place throughout the feeding."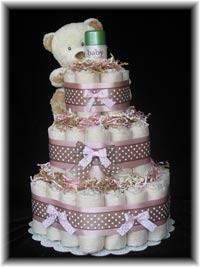 Here is the center piece for the next baby shower you attend. Can you just imagine how thrilled you'll make the mother-to-be when you grace the center of her gift table with one of these elaborate diaper cakes?
You'll certainly be the guest of honor when you present one of these cakes.
And not only is this gift breathtaking, when the new mom finally breaks down and takes apart the exquisitely wrapped work of art, she will be thrilled to have such a practical gift. The diapers, lotions and other treats packed inside these cakes are must-have items that will definitely be used and appreciated.
Visit Diaper Cakewalk to order yours.
Good For The Kids is the perfect place to shop for baby gifts. It is a mom-owned shop and carries a fantastic selection of award winning products.
We are so thankful to have received one of their Itzbeen Baby Care timers and an ultra-cute WubbaNub pacifier.
Definitely take a few moments to browse through their site and find ways to "Nurture, Engage and Decorate".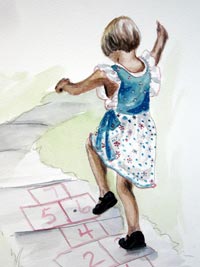 Can you imagine having your own custom watercolor painting of your favorite photo? Graced Designs can transform a photo of your children into a watercolor piece of art. One of her paintings would be a perfect gift for any mother on any special occasion.
Heather has graciously offered to do two custom watercolor paintings for us — one for Janice and another for me. I'm so excited… now we'll have to choose the photos. We'll have to make sure we get a couple of great photos of Julia and Jackson with their new sisters.
As well as paintings, Graced Designs does web design. So if you're dreaming of a new look for your site, check out her site now.
Holly Rose Aromatherapy is all about essential, fragrant and naturally handmade aromatherapy bath and body products. We are so thankful to have a taste of bliss with Holly Rose's aromatherapy lotion and salve.
"This wonderful rich lotion contains the beneficial ingredients of Rice bran oil, Organic Sunflower oil, apricot kernel oil, glycerin, green tea extract and shea butter." And the Healing Salve is made of pure essential oils, herbs, beeswax and olive oil.
All of the products at Holly Rose Aromatherapy are great for gifts and for your own everyday enjoyment.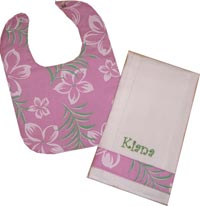 Island Baby Boutique offers personalized baby items as well as unique Hawaiian print fabrics.
We are thrilled with the charming matching sets that the Island Baby Boutique sent us for Olivia and Sophia.
Visit their site for nursing pillow covers, bibs, burp cloths and more.
Ju Ju Beane Boutique, a fabulous store where you can find playful, hip children's clothes, sent us the cutest little packages that open up into the cutest little clothes. They are made by Kumquat.
If you are looking for a fantastic place to shop online for unique, top quality, kid's clothes, head over to Ju Ju Beane Boutique. It is an adorable site with adorable stuff. And in addition to giving 3 winners a $20 gift card each to their online store, Ju Ju Beane Boutique is offering visitors from 5 Minutes for Mom who shop at Ju Ju Beane Boutique from October 1st-6th 10% off their order using code 5MIN10.
Now isn't this Konfidence baby wet suit just the smartest and cutest product ever? The Baby Warma keeps babies warm in the water and makes hanging on to their slippery wet bodies easier.
Doesn't it just make you want to take your baby swimming right now?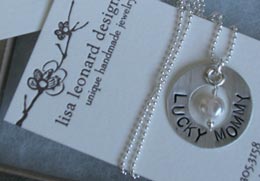 Lisa Leonard Designs sent Janice and me each one of these exquisite "Lucky Mommy" necklaces.
Lisa has a wonderful collection of sterling stamped jewelry. Take a moment to browse through her site.
Every woman loves a piece of handmade jewelry. Lisa's work would make a perfect gift for your mother, sister or friend.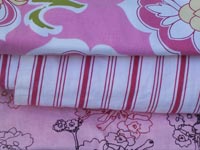 Love, September is a fantastic etsy shop run by a stay at home mom of a toddler.
She hand makes practical, playful products for you and your child. We were blessed to receive two beautiful flower headbands for Olivia and Sophia. But you can also find other great items such as extra long diaper changing pads in an assortment of fabrics.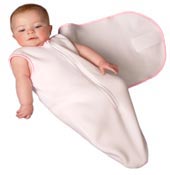 Mom 4 Life is a mom-owned store with a fabulous selection of products that all moms need.
We're looking forward to trying out this new Swaddleaze sleep sack that they've sent us.
At Mom 4 Life, you can find products Just for Dad and Just for Mom and all you want for feeding and holding.
They have all you can ask for to make diaper duty almost a pleasure.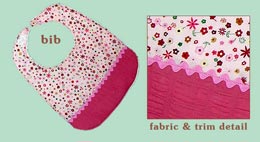 Mostess Creations makes designs for the modern homemaker.
"Mary Michele Little, the designer, is a mom herself, and understands how important it is to have good, absorbent bibs and burp clothes."
Her handmade bibs and burp cloths, and aprons are made from unique fabrics. Mary searches the country for fantastic fabrics — from the streets of New York to the big shows in Las Vegas to small mom & pop vendors all over.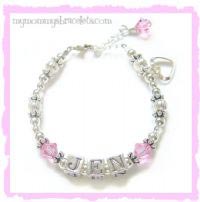 My Mommy's Bracelet offers personalized Mothers Bracelets (also known as Mommy Bracelets), Baby or Girls Bracelets, Grandmothers Bracelets, Awareness Jewelry and Bridal Jewelry.
We are so excited to see the "Big Sister" custom bracelet that My Mommy's Bracelet is creating for Julia.
Take a few moments to look through the site and find the perfect customized bracelet.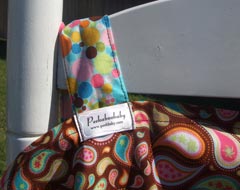 Peekaboobaby are the hip nursing covers for moms on the go.
I remember my first time trying to nurse Julia in public. I was at a party and sitting next to a professional 6-time nursing mother who effortlessly and discreetly nursed her newborn with a blanket tossed over her shoulder. Well, I just couldn't manage it. The blanket kept slipping and I was an awkward embarrassed mess. What I wouldn't have given that day for a Peekaboobaby nursing cover.
But now I'm set for nursing Sophia in public. With my stylish Peekaboobaby nursing cover there's nowhere I won't be able to nurse.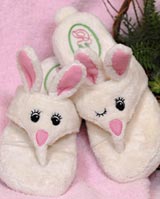 Runaway Rabbit is the brilliant creation of two enterprising stay-at-home moms.
When Gayla and Laura went in search of the "perfect pair of bunny slippers that reminded each of them of a long lost pair from younger days" they didn't find slippers, but they found their niche.
Together they created the perfect pair of bunny slippers and have gone on to create even more versions of the ideal bunny slippers such as these FLiP HoP slippers.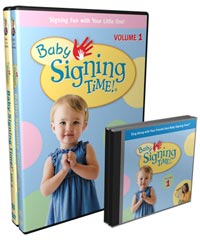 We are huge Signing Time fans!
Julia learned so much sign language from the Signing Time videos that she could communicate all of her needs long before she could talk.
We are so grateful to have discovered these DVDs in time for Julia to learn to sign, and now we're looking forward to signing with Olivia and Sophia.
The Baby Signing Time gift set is a perfect baby shower gift, and we're so thankful to be receiving a set for our girls.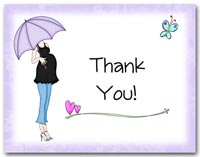 Sweet Pea Creations sent us the most darling set of Thank You Cards.
Sweet Pea Creations offers custom handmade birth and adoption announcements, baby shower invitations, baptism and christening invitations, and note cards for your special event.
The mom behind the site is Susan a work-at-home mom with a 5 year old daughter and a 3 year old son.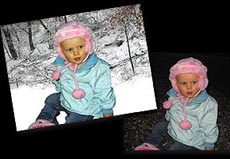 TBO Designs is a digital photo studio offering professional photo editing.
"TBO Designs, Inc specializes in all aspects photograph restoration, retouching, colorization, enhancement, color-correction, glamorization, online store product retouching."
Jenny, the mom behind TBO Designs, has generously offered to digitally enhance a photo of Olivia and Sophia for us.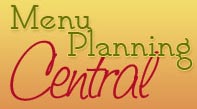 I'm excited to try out this menu planning service from Menu Planning Central. Janice and I are both notorious for procrastinating on planning dinner. There are too many nights where, at either of our homes, a fly on the wall would be laughing at our overused "what am I going to make for dinner" sigh.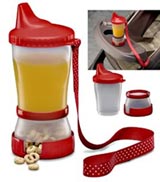 Blessed Moms Baby Gear has sought out the best baby products and collected them for your easy access. Her site offer items like this brilliant Sip n Snack cup. I'm so excited to try let Julia try out this cup. She's going to love it!
The site also has a fun section of products titled "Before Kids…" which reflect on our lives before having children.
The work-at-home mom behind Blessed Moms Baby Gear gets her inspiration from her precious son Braylon.

Classy Mommy is "your one stop to find everything baby – from baby toys to nursery furniture to accessories for mom." Their site includes a helpful product finder that lets you quickly find exactly what you need. And they even generously donate all earnings from shopping through our partner sites to charity.
Colleen is the founder of Classy Mommy and a stay at home mom for her daughter Mackenzie. She sent us a couple of adorable products that she recently reviewed on her site. A Sweeters doll for Olivia and a NannyGram for Sophia.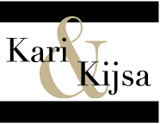 Kari & Kijsa are design experts.
They offer "Step by Step Decorating" services to help those of us who aren't as gifted with interior design know-how.
They also have a blog where they offer decorating tips, helpful hints and online advice.
PureWorks offers unique, non-toxic skin sanitizers that don't contain alcohol. They have lotions, body soaps, foam & sprays and a hard surface disinfectant.
PureWorks kills 99.9% of bacterial and other harmful germs that cause illness and infection. And it is persistent. It continues to protect your skin for hours after application
LeeAnn Mason is a distributor with PureWorks and has sent us a spray and two foams for us to test out.
Skimbaco is an upscale children's boutique. They offer children's designer clothing, shoes and accessories, great baby gifts, home deco and toys and even women's designer jewelry.
We are thrilled to receive this beautiful Peace necklace and cute Princess key chain.
The Two Wonder Moms are Samantha and Jen and their passion is designing bracelets.
They make beautiful handmade Name Bracelets, Nursing/Feeding Bracelets, Just for Fun Bracelets and Bridesmaid Bracelets which are perfect for any lady in your life.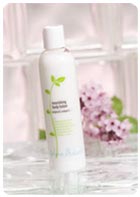 Urban Botanic lets you create a signature scent that expresses everything that's you.
They have a brilliant concept. You mix and match UB Perfume Oils until you come up with your perfect scent. Then you add your custom scent to unscented bath & body products. How fun is that? The ultimate in personalization.
Diane and Avis work with Urban Botanic.
Diane gave us a bottle of delightfully scented shower gel. I can't wait to use it. And Avis sent us a bottle of Urban Botanic nourishing lotion that she scented exclusively for us. She named the scent "Apple Baby Bottom". It is a scent combination of Green Apple and Heliotrope (which smells like powder).
Your Special Tee sent this adorable set of Big Sister and Little Sister t-shirts for Julia and Sophia. I just can't wait to see them both wearing their shirts.
Here's the Mr. Linky where you sign up if you have written a "Cyber Shower Party Post" on your own blog.
Before you go party hopping, remember to leave a comment on this post to be entered in the random prize drawing.
In your comment include a list of the prizes you would prefer if we draw your name. (You can refer to the prize numbers and/or include the company or product name.)
Click here to see the list of PRIZES!!!
Have fun party hopping…
Update: Thank you to everyone who came to our cyber baby shower.
It was great fun.
Click here to see the list of prize winners.