This post may contain affiliate links. Read my disclosure policy here.
Disney dazzles Disney California Adventure park goers with an innovative nighttime water spectacular, World of Color.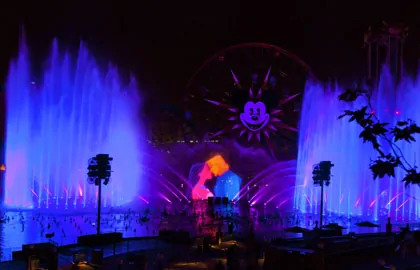 My favorite time at Disney, (it even beats whipping around on Thunder Mountain or eating ice cream sundaes as my family watches the parade march down Main Street,) is when the sun goes down and the sky lights up with Disney magic.
The fireworks, the music, the storytelling – it simply wraps up the day with a happily-ever-after ending that never fails to give me goosebumps.
So when I heard about World of Color, I knew I would love it. How could I not? With 1,200 fountains, state of the art lasers, and a 380-foot wide water screen for digital projection – all mixed with Disney magic – it could only be spectacular.
World of Color does not disappoint! Disney's creative team has created an extraordinary show — it is dazzling, inspiring and beautiful.
The animation is projected on a 380-foot wide water screen – which in itself is something to behold. But not only does the water serve as a screen for the projected images, the water screen takes on live characteristics, changing shapes, creating special effects, and interacting with color, fire, lasers and fog.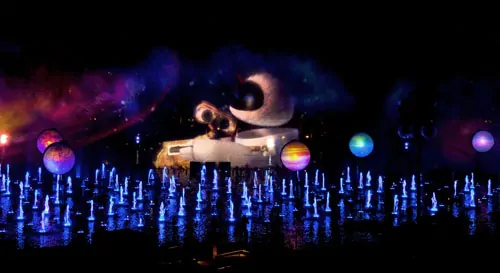 The show features characters from all the big Disney and Disney Pixar hits like Finding Nemo, Toy Story, Little Mermaid, Lion King, Wall-E and more and also seamlessly weaves in classics like Dumbo. The musical score, composed and arranged by Mark Hammond, includes new compositions as well as new arrangements of classic melodies from Disney and Disney Pixar films.
The whole show reflects the vision, innovation and heart of Walt Disney. In fact, the World of Color show was inspired by Walt Disney's 1960s television series, "Walt Disney's Wonderful World of Color."
World of Color is stunning in its technology and sweet in its Disney storytelling. It is definitely not to be missed!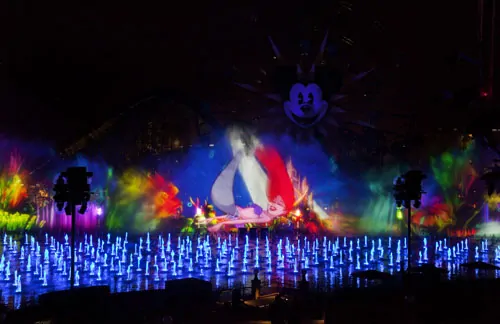 To learn more about World of Color at Disney California Adventure and to see scenes from the show, here are a couple videos for you. (On the second video the sound is cut out for the first few seconds, but no worries, it kicks back in.)
So when you head down to Disneyland, make sure you keep the kids up late enough to see the show.
There are three ways to see the show from the reserved seating area:

Get a FASTPASS for "World of Color"
The FASTPASS for "World of Color" will be available each morning at the Grizzly River Run FASTPASS terminals.
Page 2 – A World of Ways to Enjoy 'World of Color'
"World of Color" Picnic Meals – Available Online or by Walk-up Purchase*
All picnic meals with "World of Color" Reserved Viewing are priced at $14.99 and must be redeemed for the designated reserved show date and time. No refunds, exchanges or other discounts.
Prix Fixe "World of Color" Dinner Packages
Prix fixe meals are available at both Ariel's Grotto and the newly redesigned Wine Country Trattoria restaurants, and they come with "World of Color" Preferred Viewing. Guests may order from a varied menu of seafood, meat and vegetarian options at Ariel's Grotto (current price: $36.99 for adults; $20.99 for children ages 3-9) or a selection of Italian cuisine at Wine Country Trattoria (current price; $39.99 for adults; $18.99 for children ages 3-9). Restaurant seatings are at specified times and space is limited. Prix fixe meals must be reserved, at 714/781-DINE.
I hope you get to enjoy Disney California Adventure and World of Color — and if you do, come back and let us know what you thought!
Written by Janice Croze, co-founder of 5 Minutes for Mom.
Photos and Videos provided by Disney Parks
Please Note: We were not compensated for this post. In order for me to attend this press event, travel, accomodation and entrance to the parks were provided. My opinions, as usual, are 100% my own. I adore Disney — what can I say? For me, it really is the happiest place on earth.