This post may contain affiliate links. Read my disclosure policy here.
With less than three weeks to go, Susan and I have finally grabbed a shot of us with our pregnant bellies. It has taken us so many months to finally get a photo for two reasons. First, Susan and I both loathe getting our photos taken. Second, since I am usually the one taking photos, there is never anyone around to take a photo that includes me. (And I am too lazy to use my tripod.) But, today I asked my friend to snap a few shots of us.
So here we are – 37 weeks pregnant. (Susan is on the left.)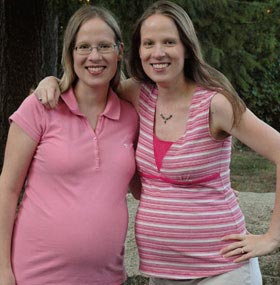 Susan is a couple days short of 37 weeks, but her dates were just an estimate from an eleven week ultrasound. Last week she measured at 38 or 39 weeks and her baby is significantly bigger than mine. So I think she will be the first to have her baby.
My baby on the other hand, is a tiny thing and I am consistently behind in my measurements. (I have even had to have extra ultrasounds to check her growth.) This is quite funny considering that my son Jackson is a giant and Susan's daughter Julia is so tiny.
But I am sure once my baby gets out of the womb, she will catch up super fast. Perhaps she is smaller because in early July, after failing one value on my Gestational Diabetes test and being diagnosed as carbohydrate intolerant, I became strict with my diet. To this day, I have not let one sip of juice pass my lips. But for the last few weeks, since I found out she is so small, I have been relaxing my diet quite a bit – even enjoying some desserts!
As for how we are feeling – we are tired!!! Par for the course I suppose. Both of us are really having a hard time keeping up with our work and with getting ready for our babies. We wanted to be all caught up with our work before the babies arrive – but that is so not happening! We are as behind as always.
Susan's kidney stone is staying put lately – thank the Lord! Hopefully it won't move until she has delivered her baby and has had a bit of time to recuperate and be with her baby.
It sure has been an experience being pregnant together. And I can't even imagine the chaos it will be when we both have newborns! But we are so grateful and we are praying that all goes well and our girls arrive safely.