This post may contain affiliate links. Read my disclosure policy here.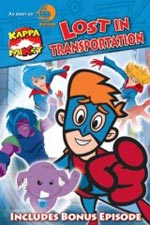 If your child has discovered cartoons, chances are he's met Kappa Mikey.
After winning a role on LilyMu, a hit anime show in Japan, Mikey Simon is catapulted to super-stardom in a country he knows nothing about. He and the rest of the cast must adjust to his new found fame – and all of the crazy adventures along the way!
The Kappa Mikey DVD is now available.
If you'd like to treat yourself to a little peace and quiet while your kids run away to Tokyo with Mikey Simon, leave us a comment and let us know. We'll enter you in our draw for 1 of 10 Kappa Mikey DVDs.
We'll draw the lucky 10 winners on Tuesday, Sept 25th. (US shipping addresses only.)