This post may contain affiliate links. Read my disclosure policy here.
I first heard the name "Chicco" from my Russian neighbor Luda who prides herself on knowing (and owning) the best brands of every product line a mother could ever use.
It began when Julia was a small baby and Luda commented on the shabby state of my hand-me-down stroller. She insisted, "You must purchase a 'Chicco' stroller. They are manufactured in Italy and they are simply the best strollers available."
At the time I decided to continue to survive with what I had… but then when I was in Italy this spring, I drooled over my sister-in-law's Chicco car-seat and stroller. And now as baby #2 comes around, I'm thinking Chicco is the way to go.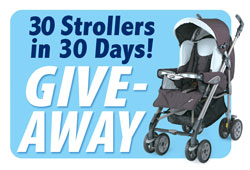 So when I heard that Chicco is giving away a stroller every single day this month, I knew I had to share the great news with all of you.
It's a very simple contest to enter. Basically, you simply visit their site and fill out a short survey and you're entered in the draw.
You'll want to hurry up and enter right away because each day from Sept 1st through Sept 30th, they are giving away one of their premier Ct 0.1 strollers.
30 Strollers in 30 Days!
Good luck and let us know if you win one… it would be so fun for some of those free strollers to go to 5 Minutes for Mom readers!