This post may contain affiliate links. Read my disclosure policy here.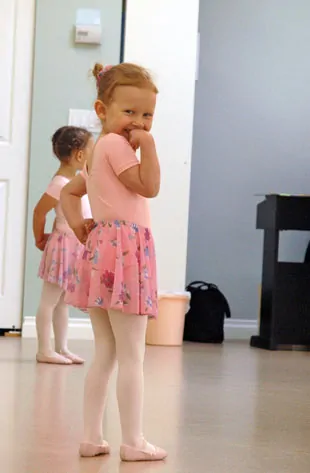 Do your little girls love ballet?
Julia LOVES ballet!!!
Since she was three, she's been going to a wonderful ballet class every Tuesday morning. She'd go every day if she could.
The best part of her ballet class is her teacher who is very strict but in the most inspiring of ways. She expects each girl to behave as a ballerina should. And do you know what? They do!
I just wish I had this teacher's powers at home.
She teaches the girls adorable little songs and routines even for the simplest task such as stretching their legs and ankles.
(There happen to not be any boys in Julia's class, which has added to her belief that only girls do ballet. I've tried to assure her that boys can too.)
Julia wanted to show your little girls how she practices her "good ballerina toes".
(In this video Julia is 4 years old… almost 5.)
So tell us, do your little girls or boys love ballet? Do they take classes? Do they dance around the living room?


Written by Susan, Co-Founder of the Mom Blog 5 Minutes for Mom