This post may contain affiliate links. Read my disclosure policy here.

Note: This is NOT the main UBP10 Party Post. Click over to get to our UBP10 Party Post with all the MckLinkies! But of course, first check out what else the UBP has to offer…
The magic of the Ultimate Blog Party is getting to mingle and meet one another. And what better way to enhance the UBP experience than through video and Twitter!
UBP LIVE
On Friday night, April 9th, we will hold a UBP Live Event from 9:00 P.M. – 11:00 P.M. ET. We will go LIVE talking with bloggers ALL over the country!!!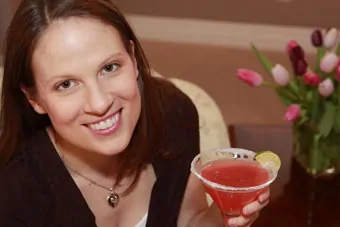 Through simulcasting, we will introduce, interview and feature Mom Bloggers via video and live chat.

And we want YOU to party live with us. To join in on the fun, you can visit us at MomTV or on our dedicated UBP Live page here at 5 Minutes for Mom.
Once you are ready to chat with us, you will need to enter in a chat name at the prompt. Don't worry about the member log in. Just enter in a chat name and you will be all set.

Here are the bloggers we will be featuring during the live simulcast:
THE #UBP10 ON TWITTER

We will party Twitter style on Monday, April 12th from 10-11pm ET.
This will be an hour dedicated to getting to know each other on Twitter with questions about blogging, social media and YOU!
Stay tuned this weekend for our #UBP10 Twitter Party post where you will be able to RSVP!
Chris Mann — LIVE online and In Real Life
For our final Ultimate Blog Party LIVE event, we are going to party with CHRIS MANN — online AND in real life — 9:45pm ET, April 14th, 2010.
This will be a LIVE event in LA (6:45pm PT/9:45pm ET) and we will live stream the performance by Chris Mann on 5m4m.
If you want to attend the FREE concert in Los Angeles, click over to RSVP at Eventbrite. The concert will be at Genghis Cohen, 740 N. Fairfax Ave, LA, CA 90046. Attendance is limited, so hurry and book your spot. Enjoy the show — your first drink is on us! And feel free to spread the word.
EVENT PRIZES
Of course no event is complete without prizes. We have some fantastic giveaways to hand out at both the UBP live event and the #UBP10 Twitter Party. (This list is only for these LIVE events. For the entire UBP10 Prizes, see the UBP10 Prize Page.)
Here is what we will be giving away:
$100 gift certificates to Frownies.com. Frownies skin care and anti-aging patches used by women like Renee Russo and Raquel Welch and moms who want to preserve their skins youthful appearance or reverse the signs of stress on the face.
Disney Mickey 5-in-1 Tasty Bakers by Pop Art Toaster – Makes pancakes, waffles, muffins, breads, cakes and brownies shaped like Mickey, Minnie, Donald, Daisy, Goofy and Pluto.
Watermelon chicBuds for your iPod, computer, MP3 or walkman. – Listening never looked so good!
Pink and Multi Color DJ Sport Headphones by chicBuds – Treat your ears to somethin' sweet!
Your choice of sunglasses or a sun hat from Baby Banz – The ultimate in children's sun protection.
$50.00 gift certificate to AmyAdele.com – Simply cute stationery.
Corolle Tidoo Dolls – Dolls with soft ''beanbag'' bodies to be posed and played with just like real babies. They even float in the tub for bathtime fun
Language of the Leaf Anti-Aging Tea Sampler & Glass Teacup – The anti-aging tea sampler consists of Rooibos blends – rich in vitamins, high in antioxidants (known to help avoid certain cancers) and helps reduce wrinkles (anti-aging).
Language of the Leaf Spa Tea Sampler and Smart Tea Maker – SPA translates from Latin as 'Health through Water'. The active properties in each of their carefully crafted blends synergize to invoke a sense of balance and well being, all important in the path to rejuvenation, water being the unifying element.
$50.00 Gift Certificate to Rosie Hippo – unique, natural organic handcrafted toys.
Magical Pieces jar from Kind Notes – Ready-made and customizable jars of your messages enclosed in miniature decorative envelopes for the recipient to open each day or anytime they need a smile.
Rockin' Ribbon necklace and earrings and Mommy/Daughter necklace and earring sets from Sydney Andrews – a home party jewelry company with fun, fashionable and affordable jewelry! Great opportunities to host your own party with free jewelry rewards or start your own business!
Zhu Zhu pets and Zhu Zhu Pets Nintendo DS games
$50 LikeWear gift certificate – Fun Clothes for Kids, Exciting Career Opportunity for Moms.
$50 Initials, inc. gift certificate – Initials, Inc. believes "There's only one you!" uniquely crafted for a God given purpose. Their products are inspired by this profound understanding.
Zippity Doos sets. Each set includes 5 products (shampoo, conditioner, leave-in detangler, shield spray and styling gel.
Parigi outfits – one Puma Girls, one LRG Boys and one Akademiks boys.
Dapper Snappers 6 Pack and 3 Pack. – Dapper Snappers are a great solution for fixing your toddler's droopy drawers.
MemoryMixer Digital scrapbook software on DVD for Mac/PC – Sharing Memories Made Easier. Includes tons of digital graphics to get you started! (200 backgrounds, 30 Pre-Designed albums, 1000s of Embellishments)
Are you excited? I know I am. See you there!
Note: This is NOT the main UBP10 Party Post. Click over to get to our UBP10 Party Post with all the MckLinkies! And to see all the prizes for the MAIN UBP10 party, go to the UBP prize page.