This post may contain affiliate links. Read my disclosure policy here.
Click this link to find all the information for the Ultimate Blog Party 2012
This is IT!!! The OFFICIAL Party Post for the Ultimate Blog Party 2010.
Welcome to the Party!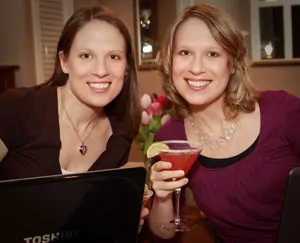 Welcome to the 4th Annual Ultimate Blog Party. We are Janice and Susan, the twin bloggers behind 5 Minutes for Mom and we are thrilled that you're here!
The Ultimate Blog Party is a virtual party celebrating online friendships.
Join the party and find new blogging friends, connect with longtime blogging buddies and maybe even win a prize.
If you're wondering what is going on here, don't worry… Here's
Everything You Need To Know About The Ultimate Blog Party 2010
But, the basic idea is really simple… here, we'll quickly tell you what's going on…
Party With Us…
Janice and I each have two children. Janice's boy, Jackson, is eight years old and her little Olivia is two years old. My Julia will be five in May and my Sophia is two years old (two weeks younger than Olivia.)
We're both lucky to have husbands who put up with our crazy blogging lives. (Although, neither of them like us to blog ABOUT them… which is why you don't see many photos of them on the site.)
Around here you'll often find us laughing about stories of our chaotic lives as work at home moms. But 5 Minutes for Mom is about more than us… it's about Bringing Moms Together. This site is really all about you!
We have a great group of writers here to inspire, encourage and empower you. We couldn't survive without our amazing virtual assistant Erica Stall and our new technical assistant Erica Mueller.
How to Join the Party:
(Simplified version. Details here.)
Read and comment on THIS post to be entered in the draw for PRIZES.
If you have a blog, write a party post on your site, include a UBP 2010 BUTTON, and tell us which prizes you want if you win.
Add your blog url AND/OR your facebook link AND/OR your twitter link to the appropriate Mck Linky below.
Visit tons of blogs, facebook pages and follow new twitter friends from the Mr. Linkies. (To be eligible for prizes, we ask that you visit and comment on at least 20 blogs.)
And remember to follow @5minutesformom and watch hashtag #ubp10 on Twitter.
There's Even More Partying This Year…

The Ultimate Blog Party LIVE

For something new this year, we're adding a live streaming live chat event on Friday night.

The Ultimate Blog Party LIVE — 9-11pm EST, Friday, April 9th, 2010

The UBP LIVE will be a video simulcast on MomTV and 5 Minutes for Mom where Susan and I chat via web cam and text chatting with YOU! We have various bloggers around the country that we will live stream in during the UBP LIVE as we talk about hot blogging topics!

Go To http://www.5minutesformom.com/ubp10live/ to watch and text chat LIVE.

Twitter Live Event on Monday night

The #UBP10 on Twitter — 10-11pm Eastern, Monday, April 12th, 2010

This will be an hour dedicated to getting to know each other on Twitter with questions about blogging, social media and YOU! We will host a special Twitter Handle RSVP for this event so you can find and follow the other participants easily. Check back for that post this weekend.

Chris Mann Live Streaming Show

The UBP IRL live stream featuring CHRIS MANN!!! — 6pm Eastern, April 14th, 2010.

There will be tons of virtual partying going on this week and it all ENDS — 11:59pm Eastern, April 16, 2009. (Well, the link lists will live on forever and you can keep blog hopping for weeks and months to come… but the 'official' party will be over.)
Entries for the fabulous prizes close at 11:59pm Eastern, April 16, 2009. And then we will begin trying to draw ALL those winners! Please have patience!
For more information about the party, read these posts:
Time to Link Up and Start Blog Hopping
Again this year we have MULTIPLE MckLinky Lists — Find ONE of the four following blog categories that best suits you and add the url of your party post to that MckLinky.
Family Friendly Blog
Not So Family Friendly Blog
Mompreneur (Includes Store Blogs and Business Blogs)
Dad Blogger
You can ALSO add your facebook profile and your twitter profile to the last two MckLinkies.
Facebook (Personal Profile OR Fan Page)
Twitter
1. Family Friendly Blogs
2. Not So Family Friendly Blogs
3. Mompreneur (Includes Store and Business Blogs)
4. Dad Blogs
5. Facebook (Personal Profile OR Fan Page)
6. Twitter