This post may contain affiliate links. Read my disclosure policy here.
She doodled on her desk.
Twelve year old New York student, Alexa Gonzalez,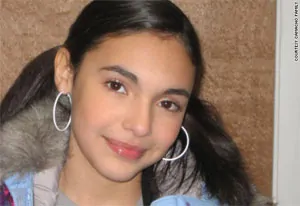 merely took a green marker and wrote, "I love my friends Abby and Faith. Lex was here 2/1/10″on her desk at school and she found herself being handcuffed and escorted out of school in front of teachers and classmates!
While Alexa is no longer facing suspension, the girl spent three days missing school — and vomiting! — due to the incident.
And according to the Wall Street Journal:
Alexa's case isn't the first in the New York area. One of the first cases to gain national notoriety was that of Chelsea Fraser. In 2007, the 13-year-old wrote "Okay" on her desk, and police handcuffed and arrested her. She was one of several students arrested in the class that day; the others were accused of plastering the walls with stickers.

At schools across the country, police are being asked to step in. In November, a food fight at a middle school in Chicago, Illinois, resulted in the arrests of 25 children, some as young as 11, according to the Chicago Police Department.

The Strategy Center, a California-based civil rights group that tracks zero tolerance policies, found that at least 12,000 tickets were issued to tardy or truant students by Los Angeles Police Department and school security officers in 2008. The tickets tarnished students' records and brought them into the juvenile court system, with fines of up to $250 for repeat offenders. quote – Wall Street Journal
The Wall Street Journal also states that in New York City there are nearly 5,000 employees in the NYPD School Safety Division while in contrast, there are only about 3,000 counselors in New York City's public school system!

What on EARTH is going on here?!? This is madness!!!
Police shouldn't be arresting innocent children for minor discipline issues inside schools! Children need to be treated like children! Educators and counsellors need to be tending to students' discipline needs — not police departments!
Handcuffs and arrests should only occur for criminal activity such as drug and weapon possesion or violent behavior. The only "zero tolerance" that should be happening is for "zero tolerance" itself!
The whole concept of "zero tolerance" is fundamentally flawed. It removes the opportunity for wisdom and common sense to be applied to individual situations.
We are not going to make schools safer by treating children like criminals. We are going to make schools safer by creating nurturing, understanding environments with appropriate discipline and adequate counselling and support for students.

Written by Janice Croze, co-founder of 5 Minutes for Mom. Janice spent six years as a youth worker before deciding to find a way to work from home so she could spend more time with her children. Along with her sister Susan, she also owns two online stores — Pedal Cars and Retro Collectibles and a A Rocking Horse to Love.
Don't miss any posts with 5 Minutes for Mom's feed. Janice also tweets at @5minutesformom and @janicecroze.