This post may contain affiliate links. Read my disclosure policy here.
A month has already passed and we will soon be flying home. Julia has absolutely loved her vacation here with her Italian family… so I'll let her tell you about some of her favorite parts.
Julia says:
I've had so much fun here in Italy. I love having a huge yard with a swing and lots of room for my favorite thing — playing soccer with my Auntie Mary-Lynn. (Nobody is as fun at playing ball as Auntie Mary-Lynn.)
Another thing I'll miss is picking and eating fresh cherries and strawberries with my Nonno.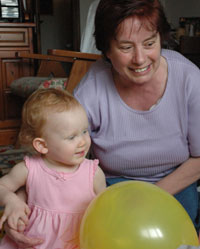 And of course, I'll miss my Nonna! She's so much fun and makes us yummy food to eat.
All of my Italian family is tons of fun. My daddy has two sisters and a brother — Auntie Lisa, Auntie Mary-Lynn and Uncle Brian. And my Nonno and Nonna have tons of brothers and sisters and so there are too many Zia's and Zio's to even count. (Zia and Zio mean Aunt and Uncle.)
All of my relatives here play with me and always make me laugh — even though some of them speak funny — Mommy says they're speaking Italian. (But luckily Nonno, Nonna, Auntie Lisa, Auntie Mary-Lynn and Uncle Brian all speak normally.)
But I think who I'll miss the most is my baby cousin Emily. I call her Emmie. (She doesn't talk at all… not even in Italian!) Here's a picture of me teaching her about "piggies going to market".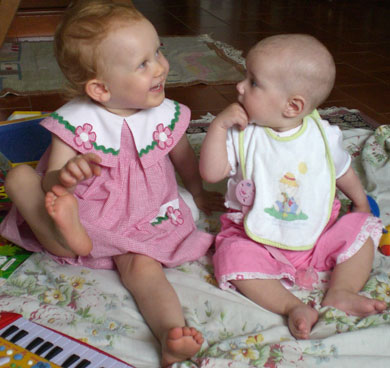 On Monday we'll be getting back on the airplane to go home. I like airplanes, but I don't like sitting still in my seat. Mommy tries to give me lots of toys to play with, but all I want to do is run up and down the aisles. I get to sometimes, but it's hard because the flight attendants are always in the way serving other people drinks and stuff.
I also love looking out the window, but I tend to make a big fuss during take off and landing because I want to stand in my seat to see out the window, but mommy says it isn't safe and I have to sit down.
So very soon the airplane will take us up, up, up and then down, down, down and then we'll land with a boom, and we'll be home.
Bye for now,
Julia