This post may contain affiliate links. Read my disclosure policy here.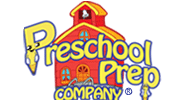 I can't believe Julia almost missed out on one of the best video learning tools available!!!
These videos should be everywhere… shouting out at parents every direction we turn the way Baby Einstein is. But even though they were created in 2004 and have won tons of huge awards, I still didn't know about them.
Then thankfully, my mom came across the Preschool Prep Company when she was at the New York Toy Fair in January. When she brought home the Meet the Letters DVD and we put it on for Julia and Jackson to watch, we were thrilled to see how much they both loved it.
The videos are designed for ages 9 months to 5 years and they really can be used for all those ages. Julia who was 1 ½ and Jackson who had just turned 5 both were thrilled with the video and still keep wanting to watch it over and over again.
Soon after we got the entire set – Meet the Numbers, Meet the Shapes, and Meet the Colors. They were all a hit! This Preschool Prep Company DVD series definitely tops the charts for Julia and even Jackson.

The entire set is the perfect gift for a baby shower or a first birthday. The Meet the Letters and Meet the Numbers would also be a wonderful gift for any baby, toddler or preschooler. The colors and shapes are best for children under three.
They are uniquely developed to teach the alphabet (and numbers, shapes and colors) to babies and toddlers while they are learning to talk. But they can be used for any child that has yet to master any of those subjects. One of the reviews listed on their site mentions how the videos "have been embraced by parents of children with special needs."
Speech and Language Pathologist Shanon Kong said, "The simplicity and repetition along with the bright, fun characters are a perfect combination for teaching children with language or processing difficulties their ABCs."
We were actually rather surprised by how much Jackson likes watching the Meet the Letters video with Julia. He's currently in preschool and is learning to read and write. He loves to watch the letters turn into fun little objects and if they are watching it and it is time for him to go home, he always says, "After one more letter… no five more letters."
"A study of over fifty babies and toddlers, who watched meet the letters 3-5 times a week, resulted in over ninety percent of these children having complete upper and lowercase letter recognition within two months. Many of the older children (ages 2-4) learned in less than two weeks! Most impressively, nearly seventy percent of children under 24 months of age mastered the alphabet."
As with so many of the brilliant products we feature, Meet the Letters was created by a mom. Kathy Oxley, mother of 4 and founder of Preschool Prep Company, invented the product while teaching her own 14 month old the alphabet. Kathy was on a business trip with husband and her toddler and while watching another popular video about the alphabet, Kathy kept repeating out loud the letters that were coming on the screen. Soon she had taught her toddler the letters, but she couldn't find a video that taught lower case or that used the simple concept of word repetition. And thus she came up with the concept behind her videos.
We are such fans of this product line, we wish we could give a copy to every little child… but obviously we can't afford to do that. So we'll do the next best thing and give a copy of the Meet the Letters DVD to one of you!!!
And yes, this contest is open to all you wonderful Canadians too. Just leave a comment and we will announce the winner next week. You are not required to link back, but you might want to so that your readers can also discover this great series and have a chance to win a copy of Meet The Letters.