This post may contain affiliate links. Read my disclosure policy here.
You don't have to be a gifted interior decorator to make your home look beautiful. One of the best ways to approach home decor is to start with your walls. We're here to share some ideas on how to decorate a large wall easily and affordably.
This post is in collaboration with CanvasChamp, and they sent us a sample custom canvas print to review. As always, our opinions are our own.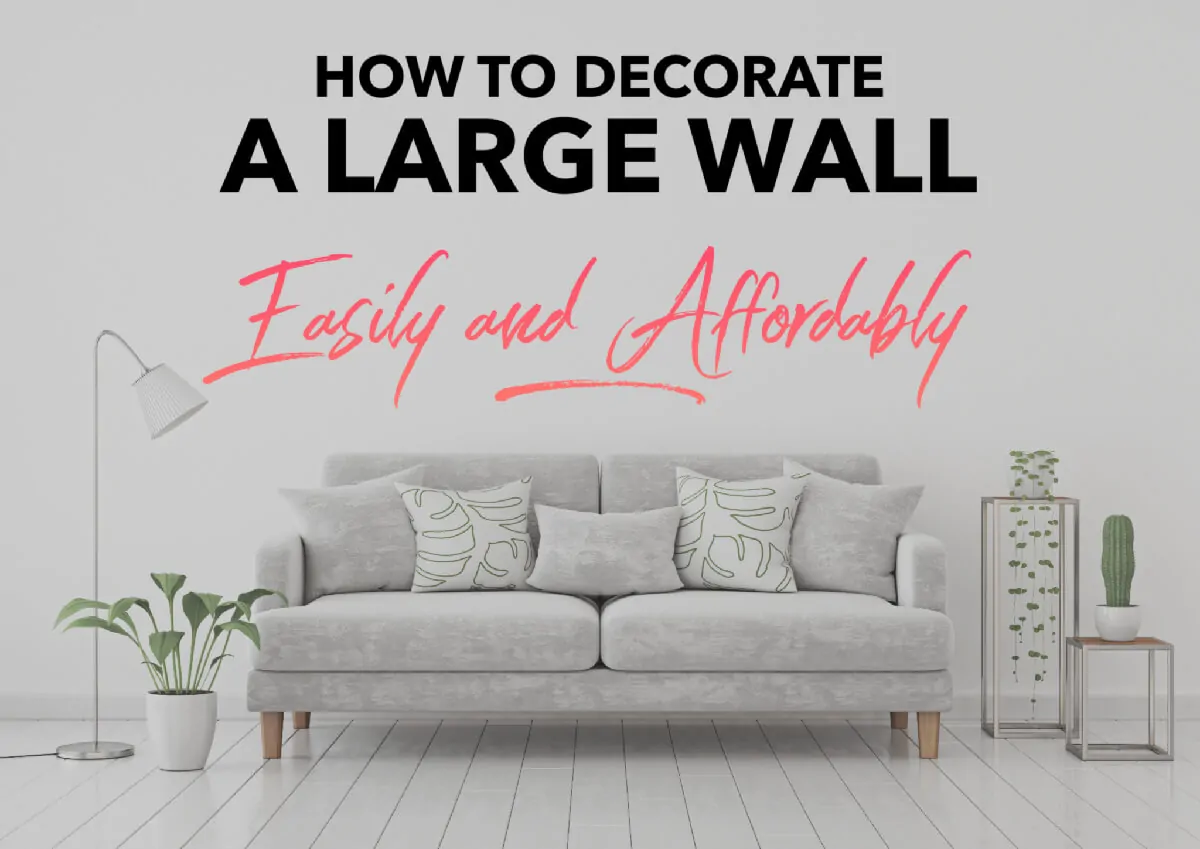 Whether you are starting from scratch to decorate a new home, redecorating your current home, or just wanting to add a new splash of style, you want to think about your walls early in your design.
If you have a large wall in your home, perhaps in the living room, master bedroom, or another important space, it can help to start thinking about how you want to decorate that large wall as well as the other walls in your home.
How To Decorate A Large Wall
First, you want to consider color.

What color do you want your walls? You can get inspiration from the current paint trends or go with one of your favorites.

White painted walls are still very much in style and we love them! As a blogger and photographer, Janice wishes her entire house was currently painted white. But for the moment, she's working on redecorating room by room. In her daughter's new bedroom and in Janice's new craft room, Janice painted the walls white.

If you're an Instagram junkie and taking lots of photos in your home, you'll love the bouncing light you get from white walls.

Second, you should determine where your furniture will sit and what parts of the walls will be covered by furniture, appliances, light fixtures, etc.

If you're working with the furniture you already own, then this step may be more simple.

Third, you can think about your style and the atmosphere you want to create in your home.

Do you want your guests to appreciate a sleek, modern style with art that grabs attention?

Check out CanvasChamp's fantastic selection of pop art that uses vibrant colors and recognizable imagery.

You can design your own pop art canvas and customize your photos using the pop art on canvas tool. Select from a huge range of styles include Warhol, Lichtenstein, Glo-Portrait, and more.

Or would you like your friends and family to enjoy seeing photos of loved ones and feeling embraced by the warmth of a special home?

When you use your own photos, you can surround yourself with your memories and truly enjoy your decor.

Fourth, this may be the least fun part of the process, but you need to assign a budget to your decorating.

The good news is that with canvas prints from CanvasChamp, even the cost to decorate a large wall is very affordable.

In the past, you may have had to go out shopping for an expensive painting to decorate a large wall in your living room or master bedroom. But now you can easily and affordably design your own custom canvas wall art.

Fifth, you get to do the fun part… creating your design and bringing your art to life on your wall.

Once you have determined what walls you want to decorate, the wall and furniture colors, where the furniture will sit against the wall, and how much you can spend, you can now decide if you want to display your photos/art on canvas or another medium.

Thanks to Canvas Champ and their online design tool, you can use either your own personal photos, photos you purchase or choose from an amazing variety of customizable pieces of artwork to create your canvas prints.

And you can go beyond canvas prints too. If you want your wall art displayed on another medium such as wood or metal, CanvasChamp handles that too. You will be surprised how many options you have for creating custom prints to decorate your walls.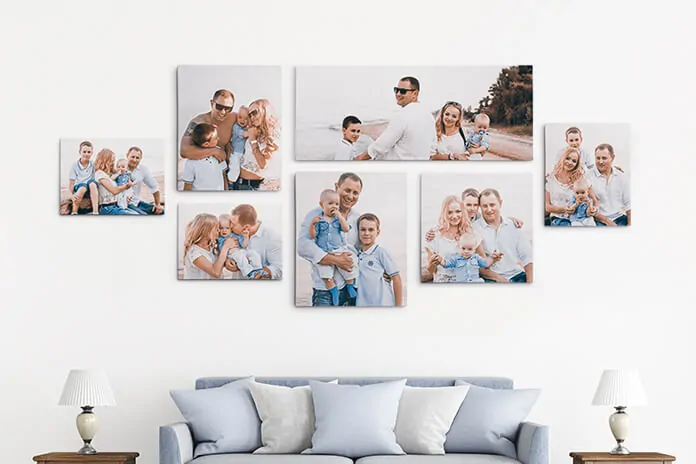 Tips For Designing Your Art Layout
It doesn't have to be expensive or difficult to decorate your walls with beautiful artwork.
If you're going to decorate more than one wall in your home, you may want to consider all the designs at once so that you create a cohesive look.
Start with your large wall first.
Create A Canvas Wall Display
One of the most popular ways to decorate a large wall is to create a canvas wall display with a set of photos that complement each other.
First, you must measure the wall space you want to use and get an idea of the types and sizes of photos you want to display.
Then you can determine if you already have the photos for the wall display or if you need to plan a photoshoot or purchase photos. You need to plan the number of panels and layout. You can also consider splitting one image on multiple canvases.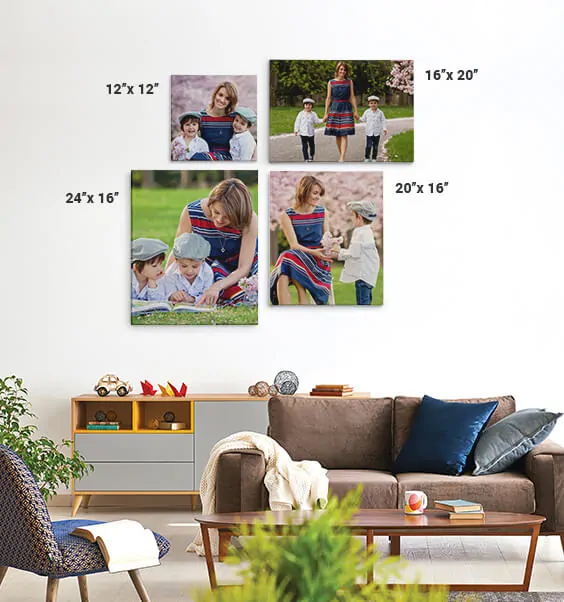 Get inspiration and ideas for your layout on this Wall Displays page.
You can view preset canvas print wall display arrangements so that you can decide what layout works best in your space and with your photos.
Another creative layout idea is to place a set of hexagonal prints in a unique layout. Each hexagonal print measures 10″ from corner to corner or 8 3/4″ from side to side and they work perfectly to combine several matching photos in a larger set.
Here are some ideas for collections of photos to include in a canvas wall display…
travel memories
wedding photos
birthday photos
special family events
family photos
special occasions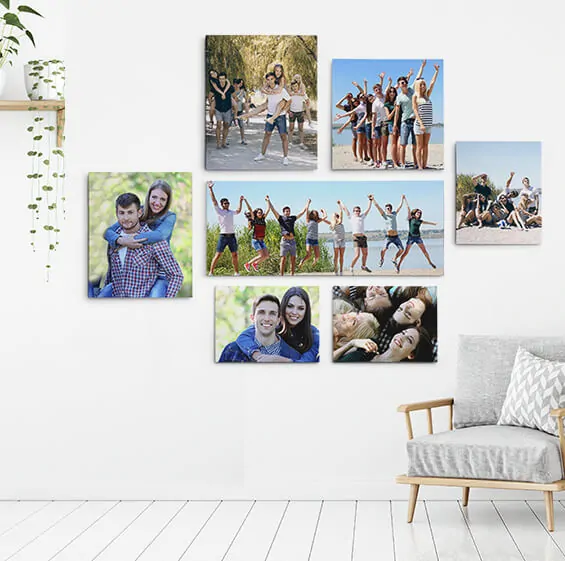 Pick Your Favorite Type Of Printing
We love canvas prints! But there are many other fabulous ways to custom print and display your photos or wall art. You can combine multiple mediums to create several looks throughout your home.
Here are some of the different types of customing photo prints…
Canvas Prints

As we said, canvas prints are one of our favorite ways to decorate walls in our homes.

You can print your own photos at CanvasChamp for an incredibly low price.

Canvas prints are printed with UV-protected latex inks on a museum-quality canvas (390 grams / square meter poly-cotton blend).

You can feel confident that your photo will be printed on a proper-coated, archival-quality, poly-cotton canvas. The frames are handcrafted from 100% pinewood that is sourced from sustainable forests.

Your canvas print is easy to hang because it comes with a pre-installed metal hook and reinforced backing.

Wood Prints

Wood printing is an eco-friendly alternative to canvas. They use a specialized process to print the picture directly on premium Baltic birch wood.

Wood printing is simply photos printed on a wooden plaque. The picture provided is directly printed onto the wood surface resulting in a more luxurious and vibrant photo.

Acrylic Prints

As much as we love canvas prints, there's another fabulous option available… an ultra-high-resolution color print using acrylic paint.

If you really want to show off your photography, an acrylic print with its 3-D effect and high-quality photo printing will really impress your guests.

CanvasChamp explains how they create Acrylic Prints…

We take your artwork and imprint it as a mirror image directly on the back of a plexiglass sheet. High concentration UV inks are used, and we make sure that the print is at a 1400 DPI for high-resolution color printing. The acrylic printing is then processed with a white coating to give it a canvas effect and to preserve it for a long time.

There are three ways to display your acrylic print:

French Cleat – sturdy level hanging for open-back frames.
Table Stand – make it seem as though your photos are supported by air on the table.
Stand-offs – offset your picture from the wall using four aluminum screws to create a 3D effect.

Metal Prints

Have you ever considered displaying your photos as metal prints?

The durability of a metal photo prints is incomparable to other types of print media. If you want your photo art to last as long as possible, you'll love that metal prints are waterproof, resist stains and scratches, won't turn yellow or fade in color. Even if you wanted to, you can't tear or burn metal prints. And you don't have to worry about damaging metal prints with tape or other adhesives.

The process of printing on ChromaLuxe aluminum creates what some say is a better product than the original photo. It begins with our white matte aluminum made to show true, rich, vibrant colors. There's something about the metal and the printing process that gives your photos more depth, sharper contrast, and deeper color saturation than photo paper or any other media.

Peel & Stick

A fun new way to print and display your wall art is with peel & stick posters and wall decals.

This new trend lets you get creative without any commitment.

The peel & stick products are made from a specially engineered material that does not contain glue but still sticks to any smooth surface and won't leave a residue. So it's easy for you to apply and reposition them. The high-resolution, high-speed printing is done at 1440 DPI using eco-friendly inks.

Photo Boards

Another alternative to for printing your photos is to print them on photo boards.

Pictures mounted on photo boards have a sharp and smooth finish that look fabulous without a frame. The ¼" thick material gives the print high durability and makes your photos look fresh and attractive.

How To Frame Wall Art?
There are many ways to frame your wall art.
And the first choice is not to frame it at all!
Canvas prints and photo boards look fantastic with or without a frame.
If you do want to frame your canvas frame, consider the unique and elegant style of a Canvas Floater Frame.
These free-floating frames will make your photo stand out like the piece of art it truly is.
A floater frame doesn't seem to be touching the canvas… it looks as though the canvas is "floating" above the frame. Canvas floater frames are sometimes called "boxed canvases".
If you would like more than one photo in your display, you can use a collage canvas floater frame to print up to four photos in a collage on one canvas print.
Enter to Win a $50 Gift Card for CanvasChamp
Would you like to win a $50 worth of custom prints from CanvaChamp.com? You'll get a $50 credit added to your CanvaChamp.com account for you to purchase multiple canvas prints!
Follow us on Instagram and then complete your entry using the entry form below.
Sorry to our Canadian friends, this giveaway is open to the US only.
To win more great prizes, check out these giveaways.
Pin it for Later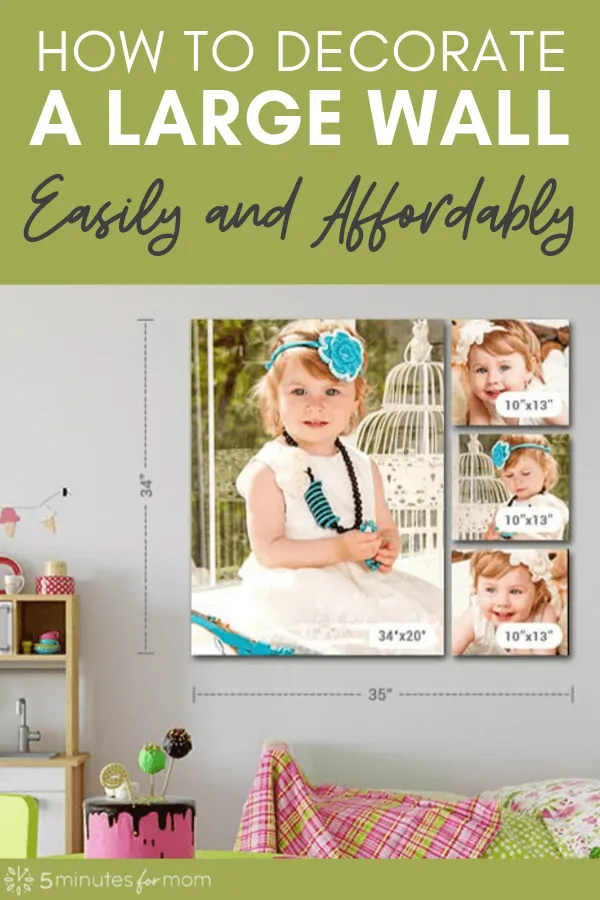 Disclosure: This post is sponsored, so extra thanks for reading and sharing.
Written by Susan Carraretto, co-founder of 5 Minutes for Mom
Talk with me: @5minutesformom and Facebook.com/5minutesformom
Pin with me at pinterest.com/5minutesformom