This post may contain affiliate links. Read my disclosure policy here.
If you love potato salad and are looking for a healthier version, you will be thrilled to discover this recipe for Purple Potato Salad with Lemon and Herb Vinaigrette. We like to serve this salad as a side dish but you could also make it a main course.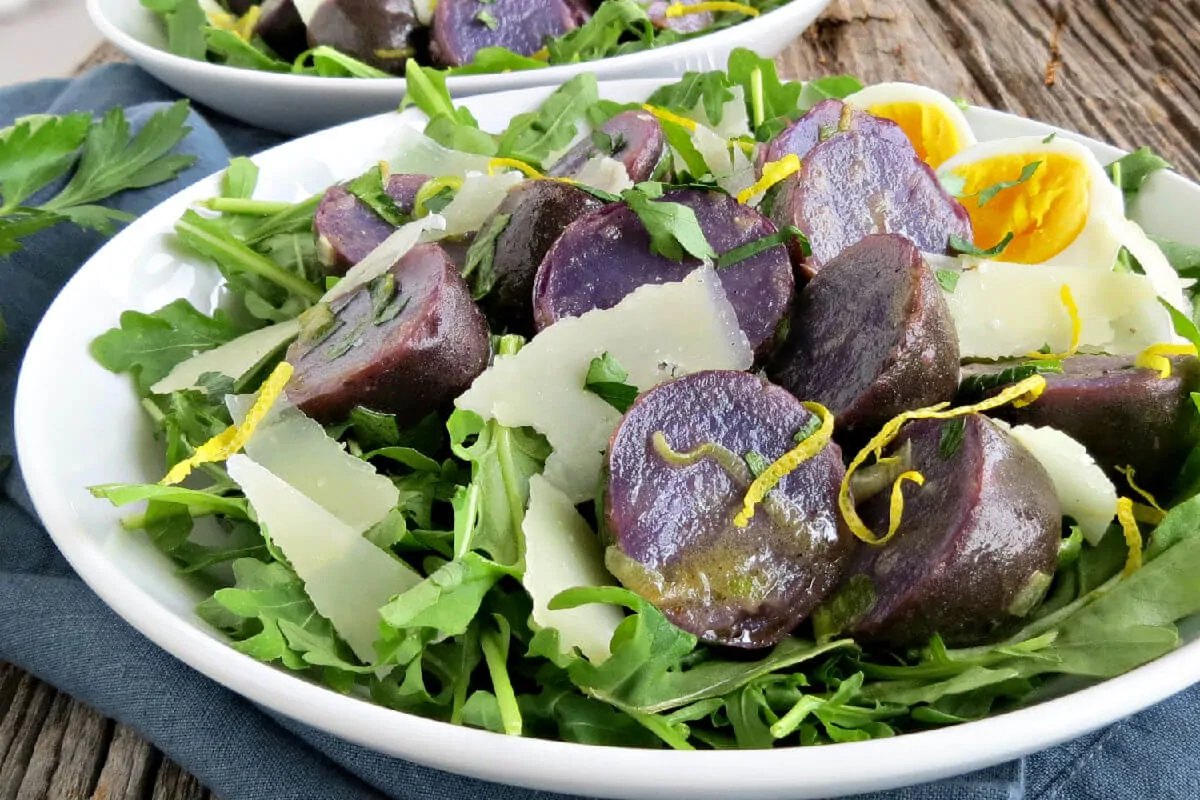 Because of their deep purple color, purple potatoes are more nutritious and have more antioxidants than regular potatoes.
Speaking of color, this salad is stunning and sure to impress.
You can serve it alongside a simple grilled steak or fish for a wonderfully high protein meal.
The bed of arugula creates such a pretty presentation, but you could use spinach or any other leafy green. The best part of salad recipes is that you can mix it up based on whatever ingredients you have on hand.
If you can't find purple potatoes, you could substitute red potatoes. But we recommend checking your local farmer's market and trying to get your hands on some healthy purple potatoes.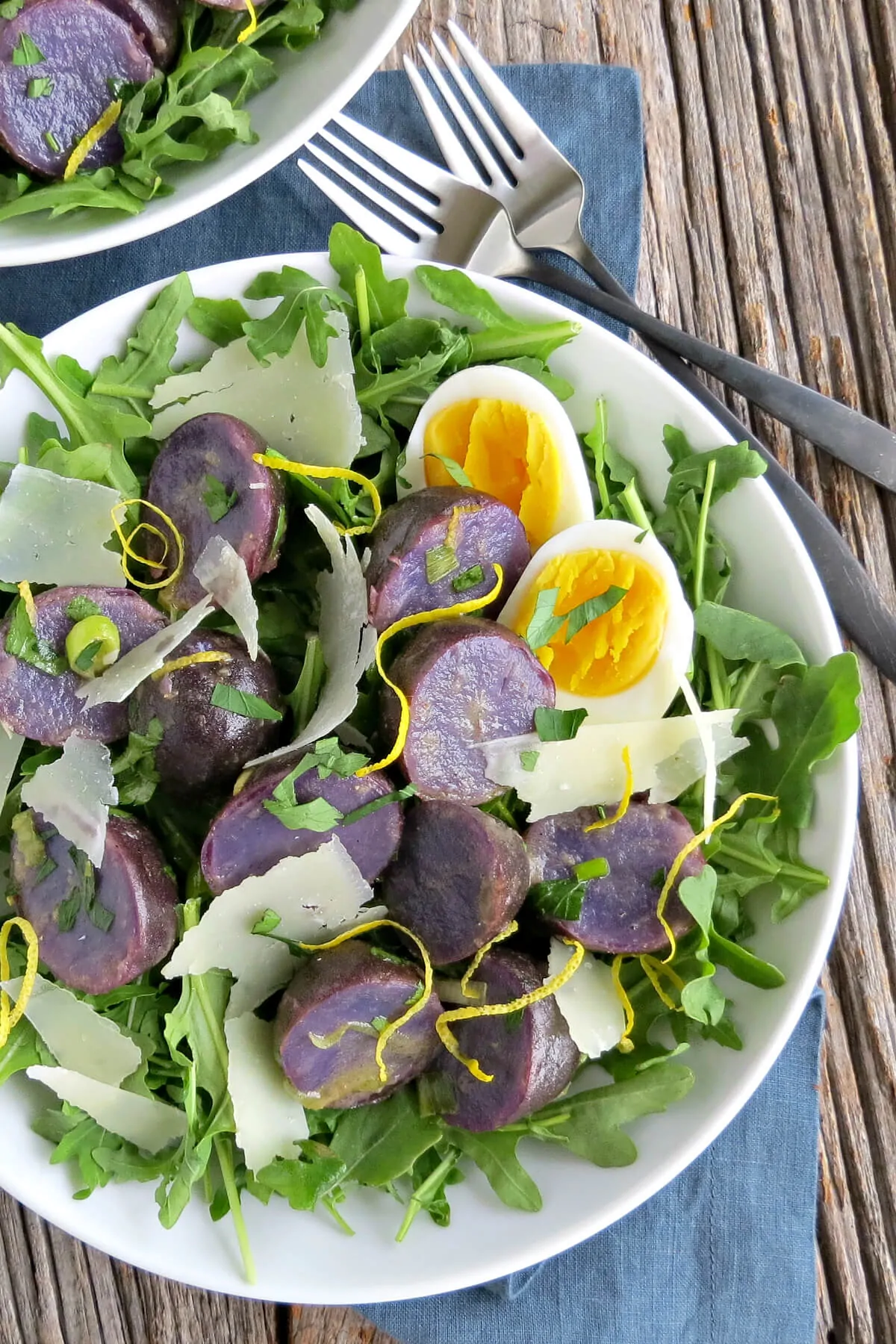 Are Purple Potatoes Healthy?
According to researchers, purple potatoes may help lower blood pressure thanks to the high concentration of antioxidants. As we know antioxidants protect our bodies from free radicals, which can be harmful and damage healthy cells.
As well as antioxidants, purple potatoes give us disease-fighting phytonutrients that can help reduce inflammation. One of these is anthocyanin, which is what makes these potatoes purple. Anthocyanin helps our bodies fight free-radicals and have been associated with reducing risk of eye disease and infection.
Anthocyanin pigments as medicine have been a part of folk medicine for ages and used as remedies for liver dysfunction and hypertension, and much like the bilberry, anthocyanins have been linked to helping reduce the risks of eye diseases and infections.
Purple potatoes are also a healthier option for a high-fiber food. Fiber is so important to keep our digestive systems running smoothly and when we're trying reduce carbs in our diets, sometimes we risk not getting enough fiber.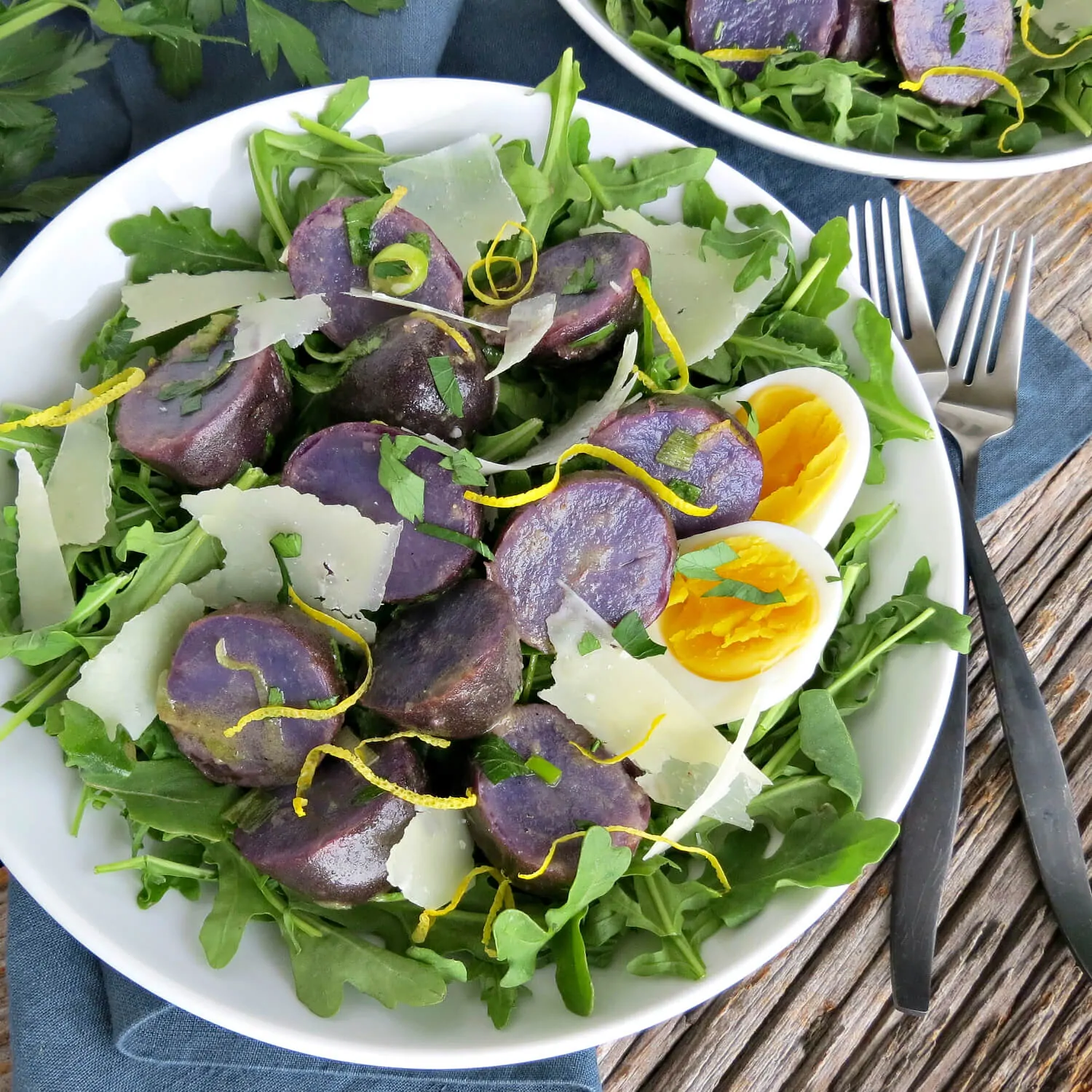 How To Make Purple Potato Salad
This salad is easy to make and very versatile.
The most important tip we can suggest is that you be careful not to overcook the potatoes!
The color and texture of purple potatoes goes downhill quickly when they're overcooked. We recommend checking them after 15 minutes. Remove them as soon as a fork can easily be inserted.
To add some more protein, you could cook and crumble bacon on top of the salad for an extra delicious version of this purple potato salad.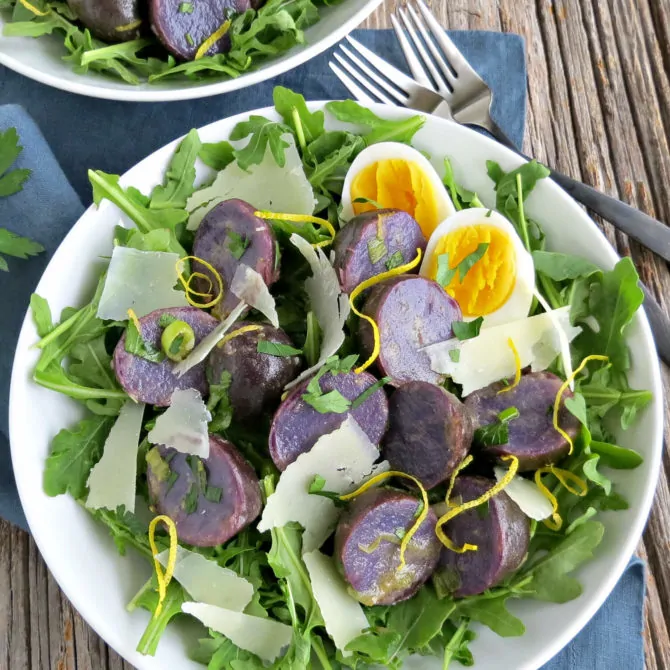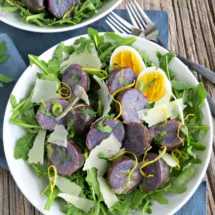 Purple Potato Salad with Lemon and Herb Vinaigrette
Nutritious salad made with purple potatoes for extra antioxidants and a light, delicious salad dressing.
Print
Pin
Rate
Servings: 6 people as a side dish
Calories: 263kcal
Ingredients
1 pound purple potatoes small
6 hard-boiled eggs
6 cups arugula
1/2 cup parmesan thinly sliced
Dressing
1/4 cup extra-virgin olive oil
2 tablespoons red wine vinegar
2 teaspoons Dijon mustard
1 garlic clove minced
1 lemon juiced and zested (set zest aside)
1 teaspoon lemon peel freshly grated
2 green onions thinly sliced
2 tablespoons fresh parsley chopped
2 tablespoons fresh basil thinly sliced
pinch salt
pinch pepper
Instructions
Cook potatoes
Wash and scrub the potatoes, and add them to a large pot.

Cover with cold water, and bring to a boil.

Cook for approximately 20 minutes or until just fork tender. Don't overcook.

Drain the potatoes, and let them sit until they are cool enough to handle, about 15 minutes.
Meanwhile, make the dressing.
In a large bowl, whisk together all of the dressing ingredients.

Cut the potatoes in half, and add them to the dressing bowl. Mix well.

Taste and adjust the salt and pepper to your liking.
Assemble salad
Place 1 cup of arugula on each plate of 6 plates, if serving as a side dish.

Divide up the potatoes and place on top of the arugula on each plate.

Slice the eggs in half and place two halves alongside the salad on each plate.

Use a vegetable peeler to shave the parmesan cheese and add to each salad.

Garnish with lemon peel and additional basil and parsley, if desired.
Nutrition
Calories: 263kcal | Carbohydrates: 17g | Protein: 11g | Fat: 16g | Saturated Fat: 4g | Cholesterol: 192mg | Sodium: 226mg | Potassium: 506mg | Fiber: 2g | Sugar: 2g | Vitamin A: 985IU | Vitamin C: 30.5mg | Calcium: 174mg | Iron: 1.9mg
Pin it for Later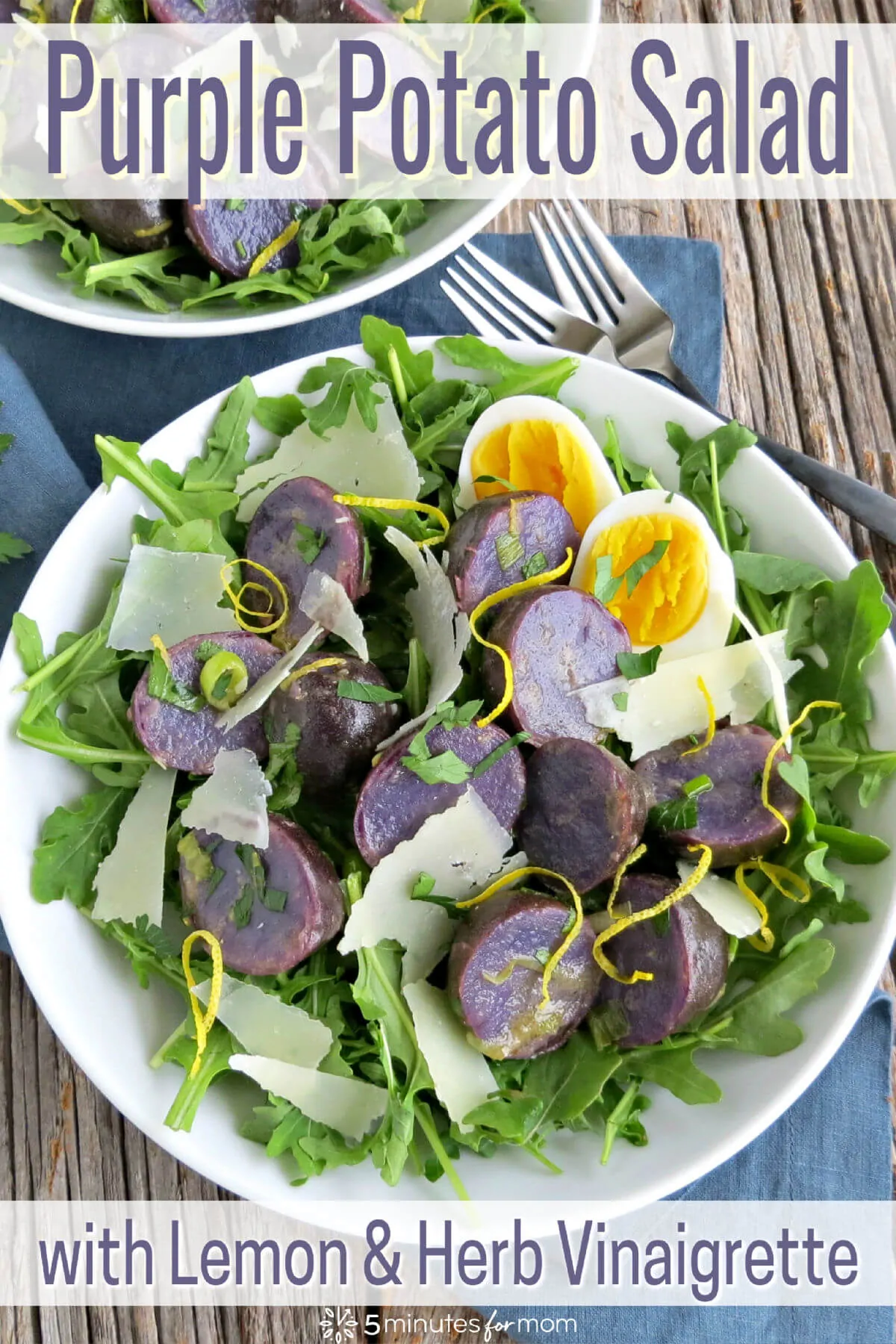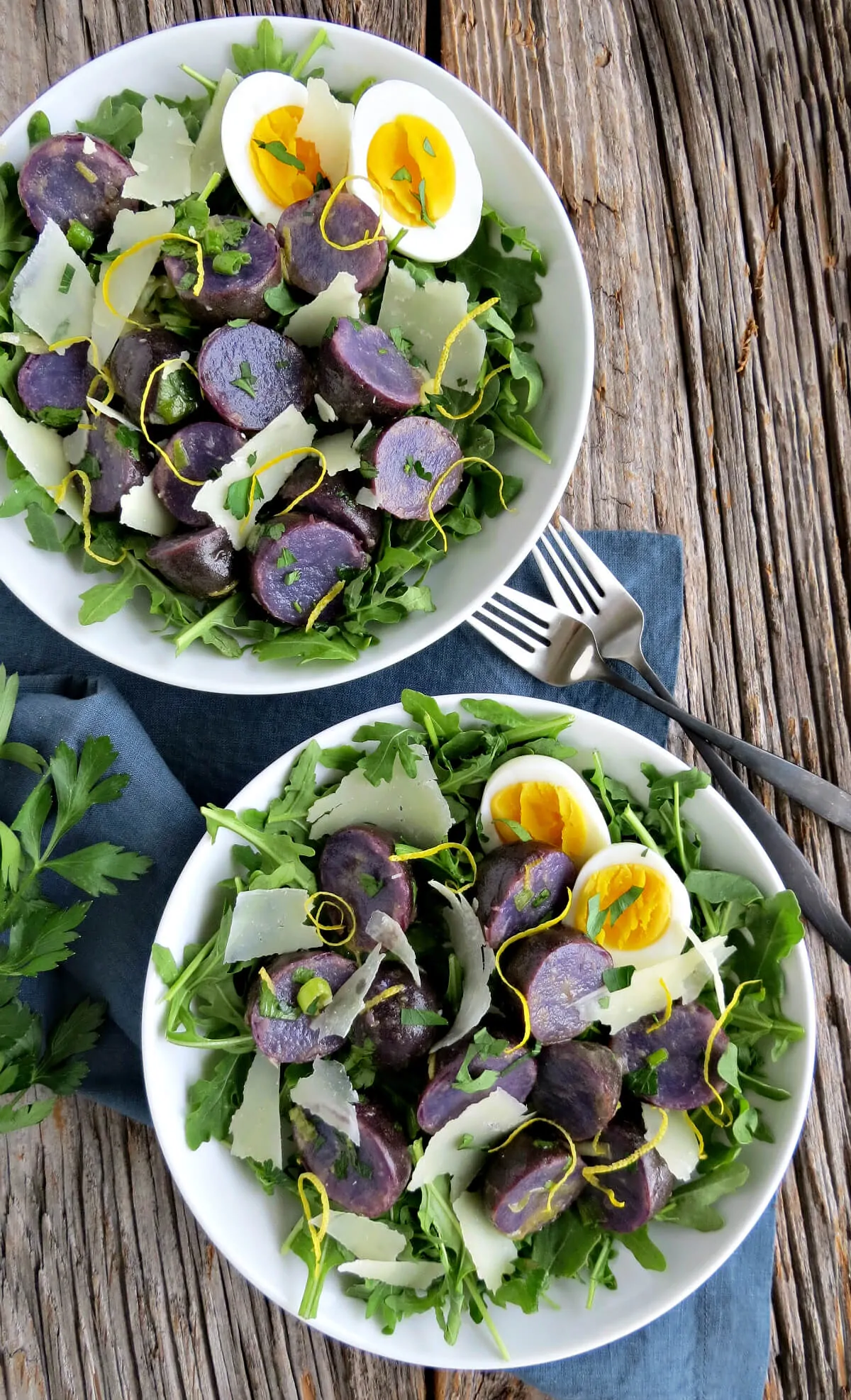 Written by Susan Carraretto, co-founder of 5 Minutes for Mom
Talk with me: @5minutesformom and Facebook.com/5minutesformom
Pin with me at pinterest.com/5minutesformom

More Salad Recipes
Baked Potato Salad with Peas and Bacon Recipe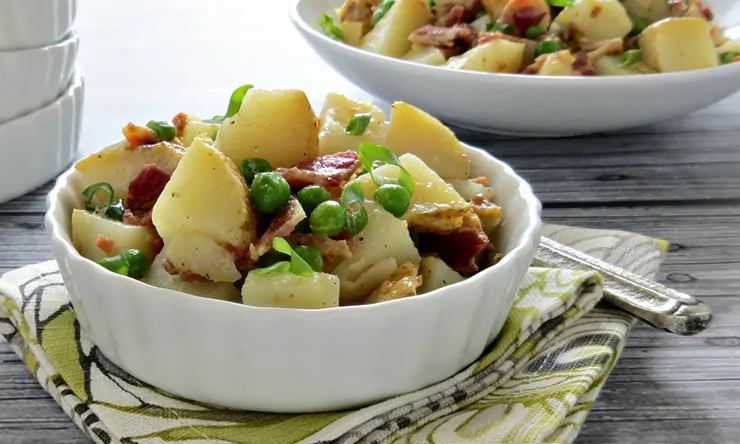 Steak & Arugula Salad with Sun-Dried Tomato & Lemon Dressing Recipe